It is quite hard to find an office without a double-monitor setup nowadays. There is good reason for it—it dramatically boosts productivity. But until recently, double-monitors means that you are constrained to your desk because LCD monitors are big, bulky, and need to be connected to an outlet. That is no longer the case, portable LCD monitors can now be powered by your laptop. So you can literally work with two monitors from just about anywhere. So if you are a location-independent entrepreneur, your productivity will skyrocket with the addition of a second monitor. 
In the following article, we will review 5 of the best portable monitors to use with your laptop.


Benefits of Having a Second Monitor For Your Laptop
A Bigger Screen 
Firstly, your choice from among portable monitors should be big enough for you to work comfortably on. This should be an important decision especially if you are currently working with a 13" or 11" laptop. Many of these portable monitors will go up to 15.6", providing you with more screen real estate to work.
Weight
Traditional LCD screens can weigh as much as 10 lbs. That makes it hassle to transport. So a good portable monitors for laptops should be lightweight. Now if you want to be all OCD about what qualifies as a light screen, we would recommend getting yourself something that weights less 2 lbs or less. At the very least, it should weigh less than your laptop. 
Connections
Preferably, the best portable monitors for laptops should be very easy to connect to and disconnect from your laptop. This is why all of the products on our list use a regular USB port to connect to your laptop. Because it is powered by your laptop's (or phone's) power, you do not need an extension cord to plug into a wall. 
Because it is powered by your laptop, your laptop's battery will drain faster if you do not have your laptop plugged into an outlet. Just something to consider.
Extra Features
Now this particular consideration is completely your choice. What specs do you prefer in terms of device compatibility, color performance, overall size or resolution? With this consideration and all the others in mind, we would like you to stroll through our list of best portable monitors for laptops that can be used as a second screen. Here they are:
| Monitor | Resolution | Screen Size | Touch Screen | Price |
| --- | --- | --- | --- | --- |
| SideTrak | 1920p x 1080p  | 12.5″ | No |   |
| Asus Zenscreen | 1920 x 1080p  | 15.6″ | Optional |   |
| UPERFECT 4k | 3840 x 2160p | 15.6″ | No |   |
| Lepow | 1920 x 1080p | 15.6″ | No |   |
| Mobile Pixels | 1080p | 12.5" | No |   |
SideTrak Portable USB Monitor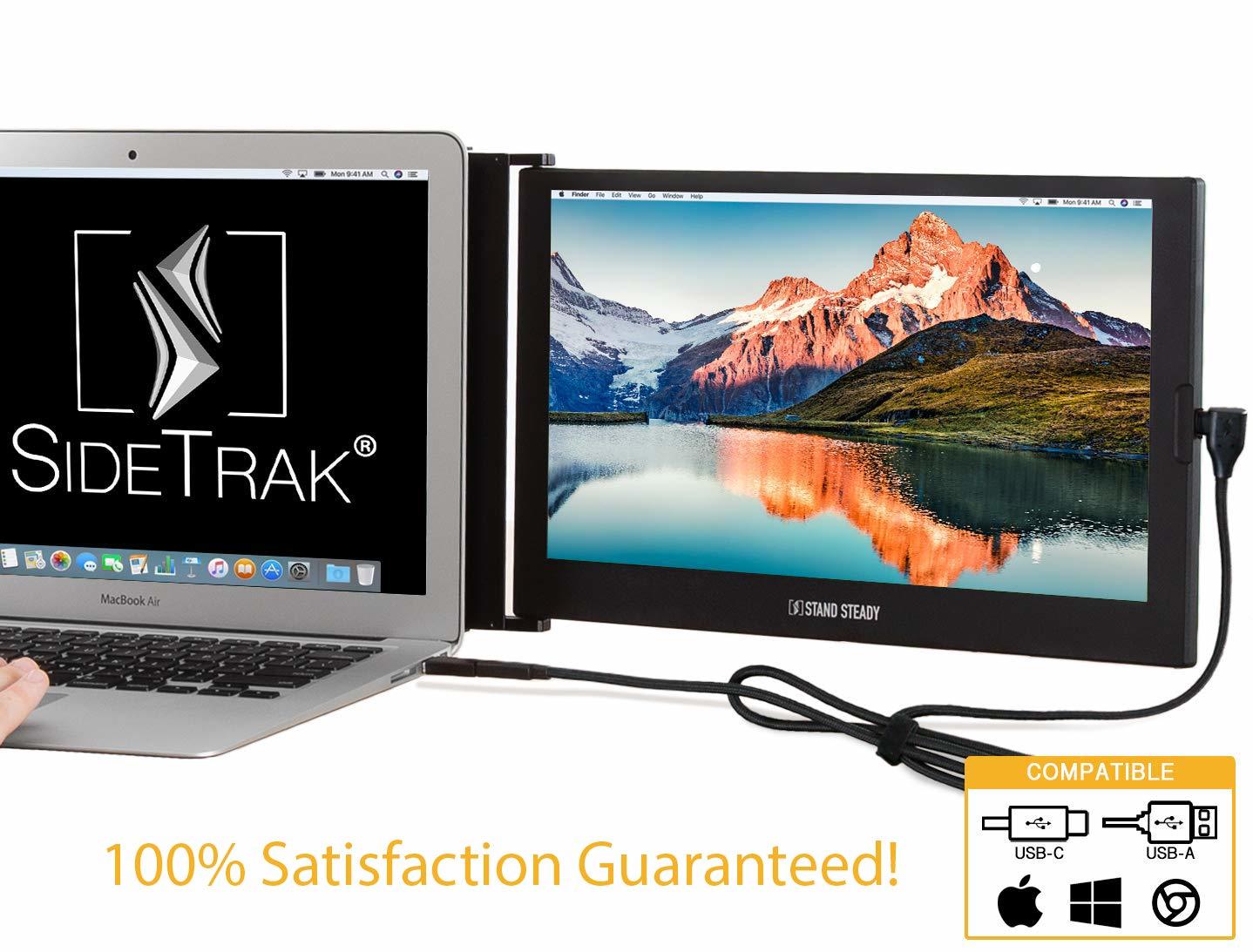 SideTrak features some device safe metal plates that will safely stay attached to your laptop as if it were custom built for it. Now this might sound difficult – but trust us the set-up process takes just a couple of seconds.
This portable monitor weighs about 1.5 lbs (0.6 kg) which translates into a sleek and compact design with a matte black finish. This makes the screen aesthetically pleasing for every environment you plan to use it in. What's more? You can even rotate and flip the 1920p x 1080p screen around to fit you preference.
You'll find that this product comes fully compatible with Chromebook, Windows and Mac laptops and it connects with each of them with the help of its USB A and C adapters. It will, therefore, easily connect to any laptop that stands between 13" and 17.5" (33 cm and 44.5cm). Lastly, this product is rated for a 4.5W power consumption.
Pros
SideTrak stays attached to your laptop with device safe metal plates.
After the initial software install (which is free btw!), your new SideTrak is ready to go in seconds
Cons
Consumers found this product very heavy
Rating: 8/10
Asus ZenScreen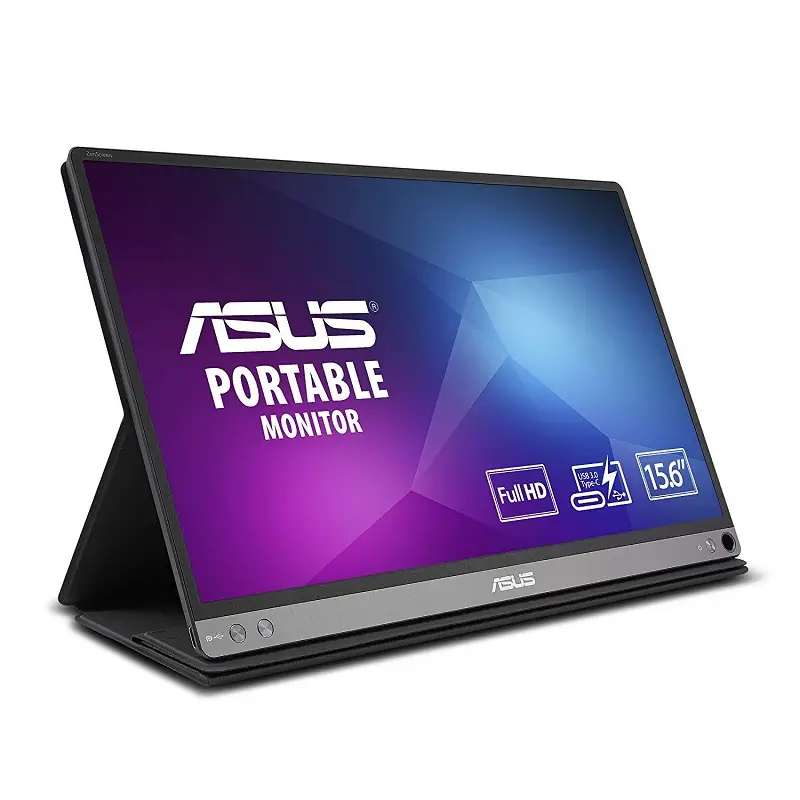 Asus has been in the monitor game for awhile so it was just a matter of time before they broke into the portable monitor market.
If you long for that heightened productivity you see faltering with your laptop, you should get yourself this full-HD 1920 x 1080p touch screen portable monitor. Also we don't just mean a simple touch screen. ​
The ZenScreen comes with several options for purchasing and powering your monitor. The cheapest option offers USB Type A and C connectivity. The second option offers Type C, Micro HDMI, and a separate battery. The most expensive option offers Type C and Micro HDMI connectivity, a separate battery, and touch screen capability.
The liquid smooth performance of this product has made it perfect for portable gaming or watching television.
Pros
Attaches to your laptop with device safe metal plates
Fits on most laptops with 13″ – 17.5″ sized screens
External battery features 4 hour battery life
A well-made monitor from a company with a history of outstanding products
Cons
The connection cable it came with feels cheap
Rating: 9/10
UPERFECT 15.6 4K Monitor With Stand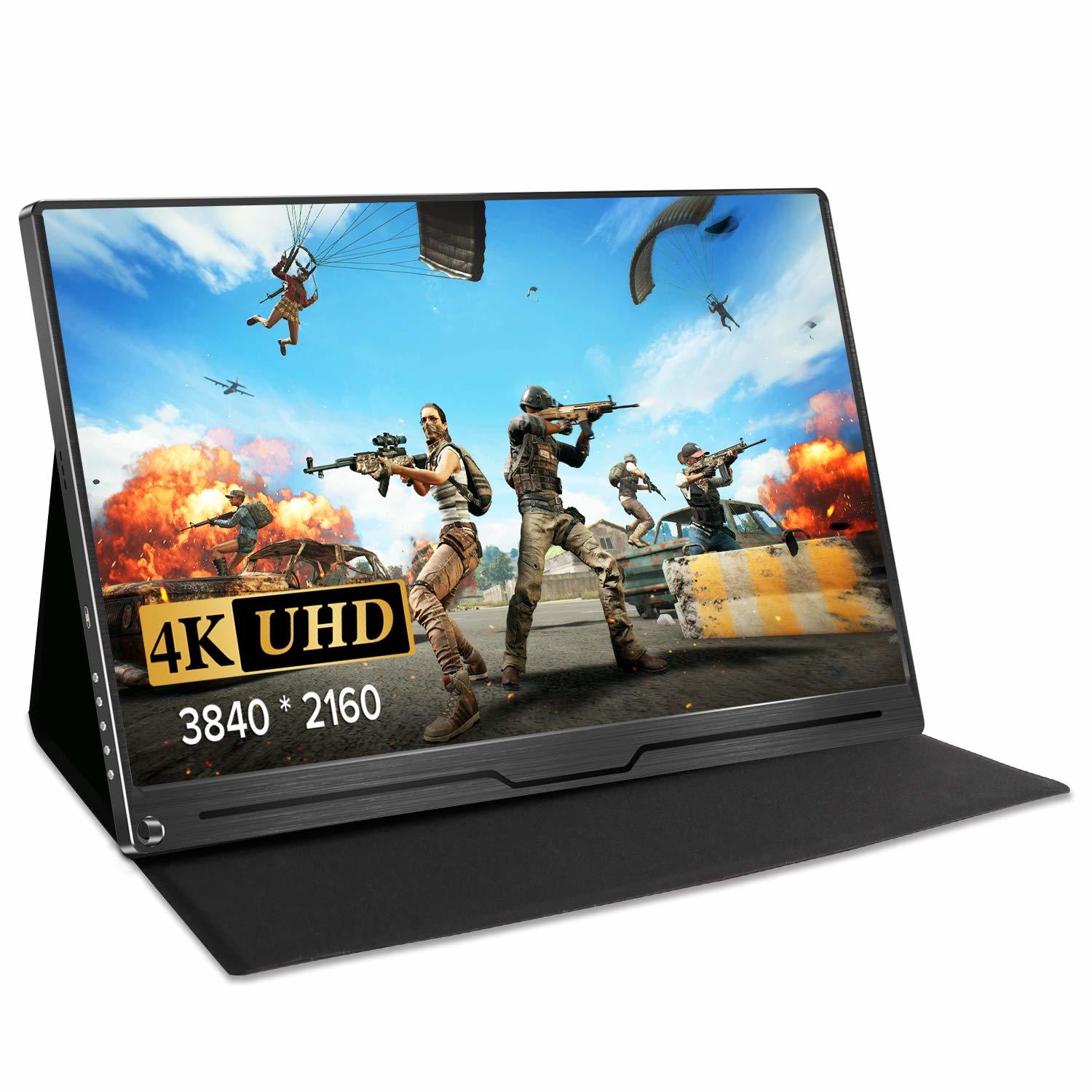 Now we're entering the colorful dimension of 4K vivid image quality and 3840 x 2160p resolution – literally another world as opposed to your laptop screen. This product won't latch on to your laptop and will stand alone while it is connected with either one of its 3-in-1 USB-C adapters.
Another great feature of this product is that it has 3 modes to choose from – one for your office, one for synchronized meetings and one for entertainment. Each of these modes is custom designed for better performance in each scenario.
This carbon fiber panel with a 15.6" (39 cm) screen has a net weight of 1.9 lbs (0.85 kg) and its adapter supports 100W with its 1 x 45W PD adapter.
Pros
3-in-1: USB-C integrating powering, signal transmission, and USB port
4k vivid image quality
Monitor comes with a stand cover case made of PU leather
Cons
Not compatible with newer Macs because they only come with USB C ports
Rating: 8.5/10
Lepow 15.6 Monitor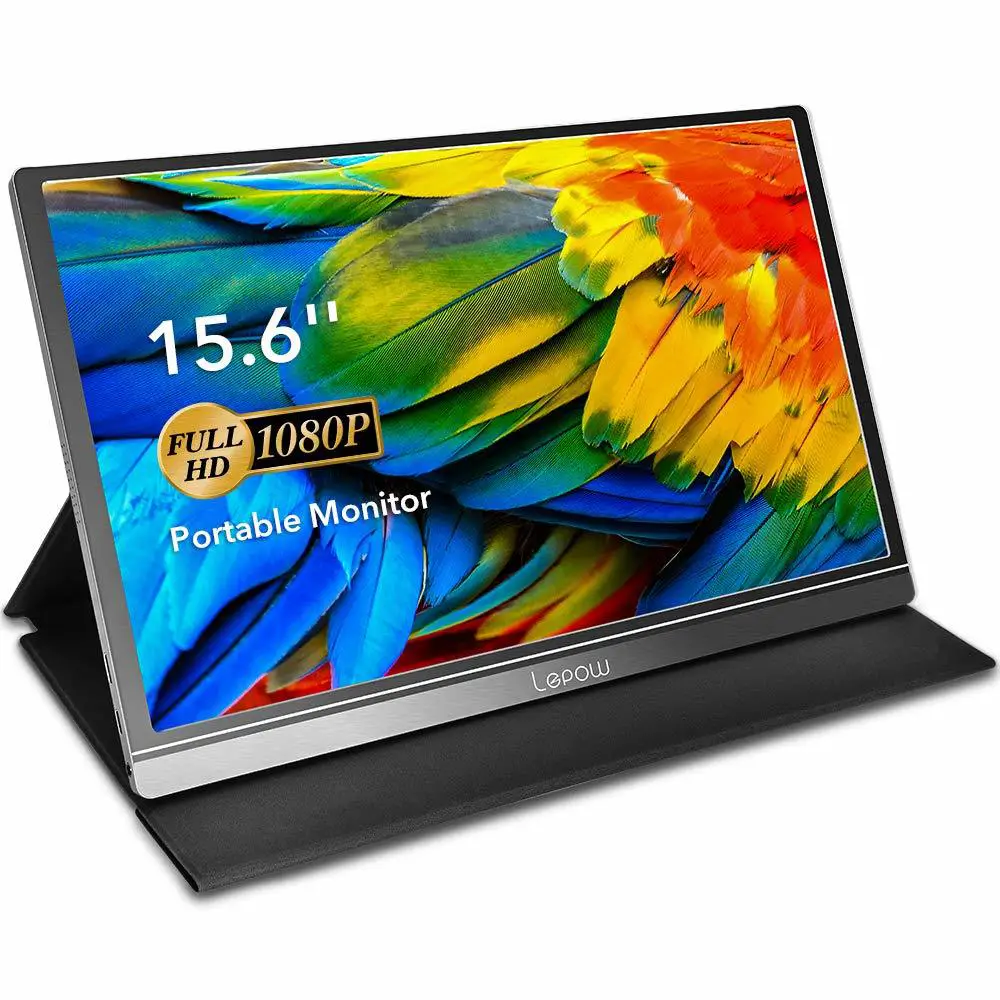 The Lepow portable monitor works with a USB-C to deliver excellent visuals at a 1920 x 1080p full-HD resolution. It is completely compatible with all laptops and PCs while also allowing connections to your Wii, XBOX, mobile devices or PS3/4's.
That's not all though. The 15.6" (39 cm) screen weighs at exactly 1.76 lbs (0.77kg) making it perfect for working-on-the-go or even more business presentations and conference. You will also have the option to work in both landscape and portrait mode. . The 2 built in speakers are definitely much better than your laptop's stock speakers because of its HDR mode.
Pros
Stunning 1920 x 1080 resolution visuals with awesome color reproduction.
Compatible for laptops, PCs, Phones, PS3/4, XBOX ONE, Wii or Nintendo Switch etc.
Smart cover is made with a durable PU leather exterior, a soft lining to keep your monitor safe.
Cons
Sometimes the stand/cover it will fall over if not at a specific angle.
Rating: 9/10
Mobile Pixels Portable Monitor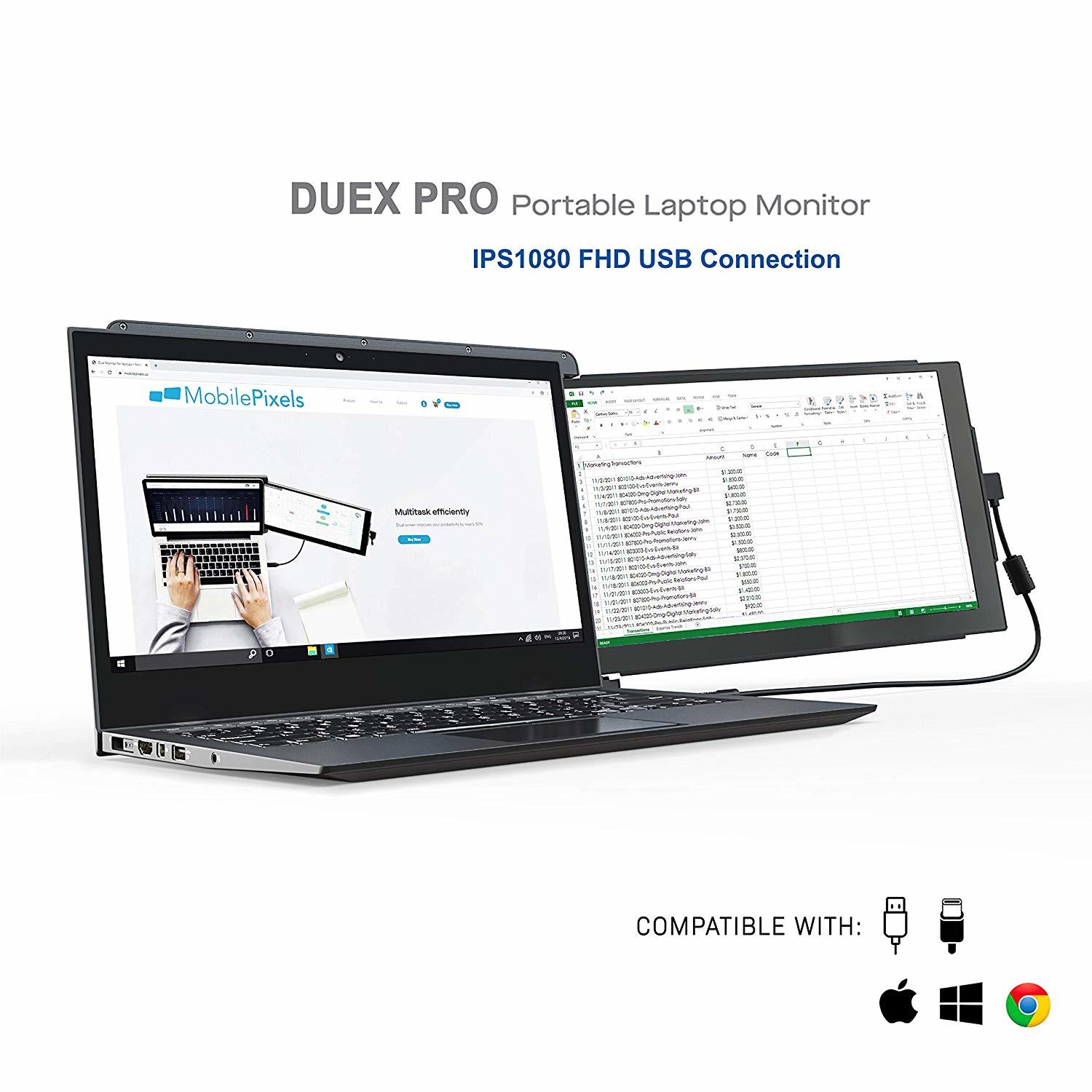 The Mobile Pixels portable monitor that stands at 12.5" (31.75 cm) and its 1080p resolution works with an anti glare function. Once you've purchased this product, you will be using a USB-A or C to attach to your Chromebook, Mac or Windows laptops.
If you look into it, you'll find that this product has actually won awards for its energy saving capabilities. What's more? This product only weighs 1.6 lbs (0.72kg) making it perfect for operating in co-working spaces, coffee shops, or even in airplanes.
The 180 degrees presentation mode and 270 degrees full-rotation just makes this product utterly user friendly while its energy efficiency stands at a max of 4.5W. 
Pros
The portable monitor can be attached to your laptop for easy travel
Award-winning and energy saving design
Simple Plug-and-Play use
Cons
Some users found it too hard to put together.
Rating: 8/10