MMA has become very popular in recent years due to the increased popularity of UFC and Bellator. As a result, more and more people are taking interest in participating in the sport, either as a form of exercise or to eventually fight professionally. This increased interest is an opportunity to profit for those willing to put in the work of owning an MMA gym.
Table Of Contents 1MMA Gym Research2How Much Do MMA Gym Owners Make?3Revenue4Expense5Profit6Build Up Your Skills7Business Formation8Running an MMA Gym9Marketing Your Gym10Personal Website
But keep in mind, owning an MMA gym is not easy and is a labor of love for most people. However, for the right person, it can be a very lucrative business. If you are interested, here is a comprehensive guide that shows you how to get started with starting your own MMA gym.
MMA Gym Research
According to the Google Trends chart below (for United States), which assesses interest according to Google searches, the search interest for MMA gym grew impressively between 2004 and 2009. The interest in MMA gyms seem to peaked in the summer of 2009 and has declined a bit then stabilized between the 50-75 search range since.
For comparison sake, Brazilian Jiu Jitsu (BJJ) gym search trend was also added to the Google Trends chart. The search interest for BJJ show a lot more consistency relative to MMA gyms. Interest in BJJ is slowly but surely increasing over time. However, the overall search values for BJJ gyms pale in comparison to the number of google searches for MMA gyms since 2006.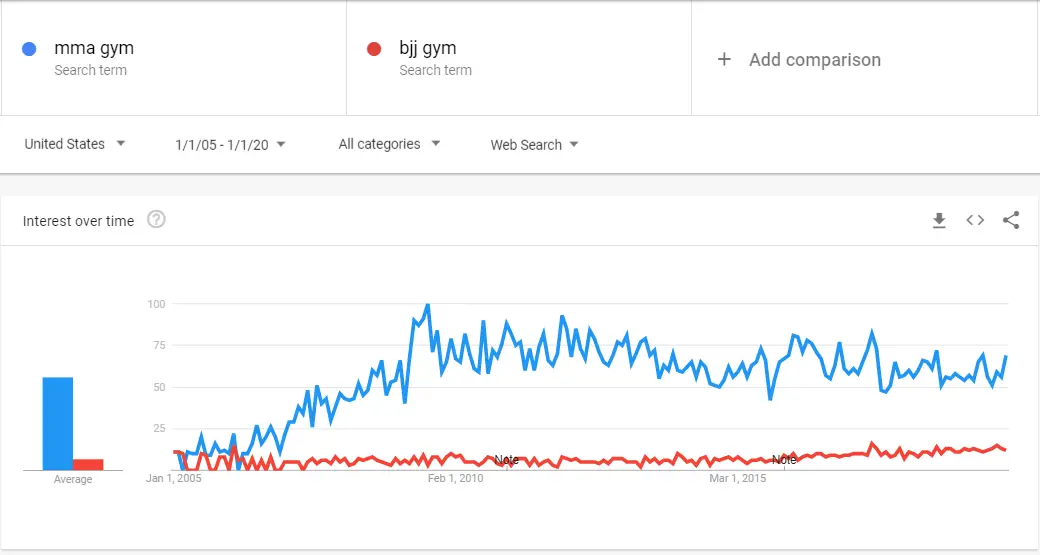 According to IBISWorld, the market size for Martial Arts Studio is approximately $5 billion in 2019. They also stated that a 3.7% average industry growth occur for Martial Arts Studio between 2014-2019. What's great is that an estimated 35% of martial arts participants take MMA classes. Furthermore, Statistica created the following MMA participants chart and it shows what a large number of individuals are already taking MMA classes, much less the untapped potentials.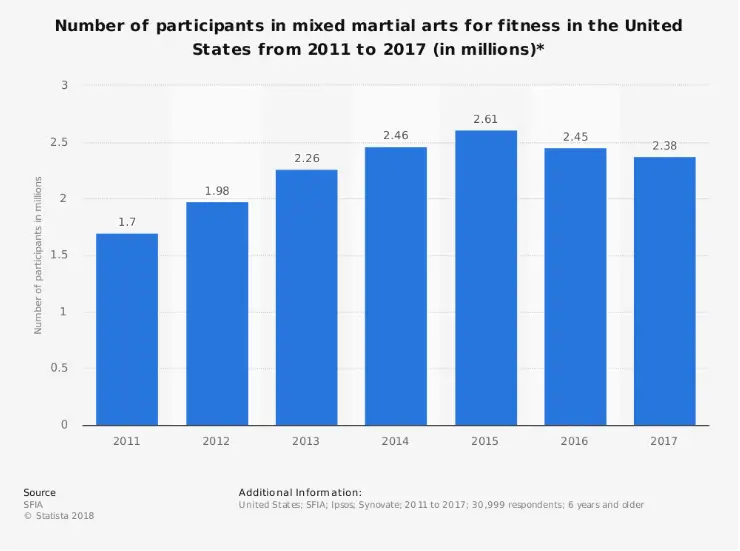 How Much Do MMA Gym Owners Make?
The statistics on the average annual pay for an MMA gym owner is not readily available. The pay range could widely vary based on the owner's ability to attract students, how much they charge as well as the money the gym owner must spend to keep the school running. The latter content will be expanded later on in this article. A couple of sources could give you a look at the expected pay by evaluating the following data. The company Indeed state that a UFC Gym Martial Arts Instructor average pay is $31.95 per hour. While the Salary.com website shows that the average Mixed Martial Arts Coach pay range could be anywhere from $77,407 to $117,091.
Revenue
MMA gym owners typically allow their students to have the opportunity to book private lessons with them in addition to the typical group classes. The cost for the group classes may also be charged differently based on whether the student wants to focus on one particular skillset such as striking or if they want to have access to all the available classes. The following are the prices for MMA training at a particular gym near me, which is a major metropolitan area. These gym prices give a good representation of the average expected costs for MMA participants.
| | |
| --- | --- |
| Type of Training | Cost |
| Private Lessons | $55 per hour |
| Unlimited attendance to Striking Classes | $124.99 per month |
| All Access | $144.99 per month |
A quick calculation shows that simply having 30 students on the all-access option would provide the MMA gym owner with a revenue over $50,000. Once the MMA gym owner continues to grow their program, they could add private lessons and sell merchandise to make their MMA gym business be quite profitable.
Expense
The expense for owning an MMA gym is variable. Equipment expenses are one-off expenses that are not recurring. You just need to keep them in tip-top condition so that you don't have to buy new ones so often. Also, the facility you are renting will also need to be considered into expenses. Additionally, you may need to hire some administrative support. You can pay for the administrative support or you can allow them to take classes for free.
In addition, marketing costs need to be figured into the equation. Marketing costs will be a lot more in the first few years as you are starting out. However, even with a business that has matured, you can expect to spend at least $2,000 a year on marketing costs.
Profit
Due to the fact that a lot of the facility and equipment have a set cost, the profit margin for running MMA gyms highly depend on how many members is present at the gym. The following calculation utilized data from the company Zen Planner that surveyed over 349 martial arts schools.
In our example, we determined our class tuition value for 50 members signing up for the "all-access" membership option with the monthly fee being $144.99 per month as stated previously.
Revenue
| | |
| --- | --- |
| Class Tuition | $7,249.50 |
| Merchandise/Retail | $783 |
| Other | $335 |
| Total | $8,367.5 |
Expenses
| | |
| --- | --- |
| Rent/Mortgage | $2,676 |
| Utilities and building expenses | $423 |
| Marketing Expenses | $284 |
| All other expenses | $534 |
| Total | $3,917 |
A calculation of the example above would give the gym a total profit of $4,450.5 per month and an annual profit of $53,406 with 50 students on the roster.
Build Up Your Skills
If you want to own an MMA gym, you should know some MMA. So that means if you are not already training, you should start training. Compete in some competitions. Get some accolades. The more accolades you have, the better off you will be when it comes time to recruit members. 
In terms of striking, if you have a black belt in a traditional martial arts, that's a good start. But you should have years of kickboxing and boxing training in your arsenal. And at the very least you should have at least a couple of amateur fights under yourself. But to brand yourself as a "legitimate" MMA gym owner, you should definitely have a few pro fights. 
In terms of grappling, having a black belt in Judo or Brazilian Jiujitsu (BJJ) is great. But if you have an extensive wrestling background, that's even better. Many MMA gyms lack the wrestling background to complement the BJJ. So what if you don't have a black belt? Well it's not necessarily the end of the world. There are people that have opened their own MMA gyms with blue, purple, or brown BJJ belts. But if you don't have a colored belt, you have no business teaching grappling. But if you don't have a colored belt, you can hire someone on a part-time basis to teach class.
Having said all that, having extensive MMA training is a good but not absolutely necessary. You can also go the "silent partner" route. In this route, you own a majority portion of the business but partner up with someone who has extensive MMA experience. But this route is not the best route as the margins on MMA gyms are not that huge unless you franchise or open up multiple locations.
Business Formation
This section focuses on the six basic necessities to make your MMA gym business become legitimate as well as the content required to protect your business.
1. Business Structure
Decide what kind of business structure you would like to form for your MMA gym. Common options typically chosen are either to form a limited liability company or an s-corporation. Legal Zoom has more info on the similarities and differences between various type of business formations. Additionally, they will help you through the process needed to set up your business.
2. Employer Identification Number
After the business entity has been established in the prior step, it is now crucial to obtain a Employer Identification Number (EIN). This federal tax ID is often a requirement for the following tasks:
Open a business bank account
Apply for business licenses and permits
Pay employees
File federal tax
The EIN application could be completed through online companies like Legal Zoom for $79 or it could be completed for free through the Internal Revenue Service (IRS) online application.
3. Business Licenses and Permits
Take some time and research into what permits and licenses are required in your designated state and city. Try using the U.S. Small Business Administration's website to find this information. Make sure to have all the applications and associated fee payments completed properly. If you need assistance in determining the appropriate licenses and permits, go to the U.S. Small Business Administration website and search within their Local Assistance directory. This website will provide all the assistance center in your area.
4. Business Bank Account
Protect your personal assets by creating a separate bank account that is solely devoted to your MMA gym business. Approach your local banks and talk to them about their offerings. Choose the bank and credit card accounts that fits your business needs best.
5. Insurance
Minimally, a Liability Insurance policy is needed to protect your MMA gym from financial loss due to bodily injury. Take your time to look for the insurance that suits your needs and is the most cost effective.
6. Liability Waiver Form
Rocket Lawyer allows you to draft a Release of Liability form that you should have all class participants sign before becoming a member. Combine this with the liability insurance to protect and defend your MMA gym against injury-related lawsuits.
Running an MMA Gym
As you look towards starting an MMA gym, be mindful of the following subjects as you strategize and develop your business plan.
1. Know Your Clientele
So who do you want to cater your gym to? Do you want to cater to the casual 9-5 crowd that wants to get out a workout after work? If this is so, you can pitch your gym as a great way to get in a workout. Or do you want to cater to people who actually want to defend themselves? In that case, market your gym as a place to learn self-defense and martial arts. Or do you want to be a fight gym, known for training people to fight amateur and professional matches? In that case, you will need a lot of experience in the fight game. You will also need to have or build connections inside the fighting world. 
Here's a thing I will have to say about having a gym exclusively catered to fighters though. If you do want a fight gym, make sure to be inviting to people who want to train casually also. Otherwise, you are pigeon-holing your gym and it won't last. You also need to make sure that your fighters don't intimidate or go too hard on the more causal members of your gym.
2. Schedule
It is important to balance your MMA gym's schedule to fit the needs of your area. Decide if it is important to have flexible class hours to fit the majority of people's schedule or would you rather run sessions at non-standard hours, such as before 9 AM and after 5 PM. Consider the attendance at the potential hours and if the revenue would surpass the expenses from the increase in utility bill and the addition of staff members to cover those extra classes.
3. Location
The location of the gym is going depend on the type of clientele you are looking for. If you are willing to pay more, you can get a spot in a busy city center. If you do that, you can charge higher prices and your clientele will be those who work nearby and just want to get in a good workout after work or during lunch. If you don't want to pay for a high lease, you can find a industrial or rural location in a smaller city. The clientele will be those that live nearby or are willing to drive a good 20-30 minutes to attend class. You won't be able to charge as much as you would in a city center. If you want a middle ground, you can find a small city and then try to get a gym in the downtown area. A small city would have 50,000 people or less.
As for the structure of your gym, you would obviously want a one-floor building. There are several reasons you do not want a multi-floor gym and they all revolve around safety precautions. As for the size of the gym, you should try to get a gym that is at least 2,500 to 3,000 square feet.
4. Competitive Pricing
Research into local MMA gyms and examine what prices and pricing structures they offer. Determine a price structure that is competitive to those gyms. Do not outprice yourself, unless there is something unique that is offered only at your location. At the same time, avoid underpricing yourself as well. The lowest price in the area does not always directly correlate with membership numbers and it will force you to maintain a higher number of active memberships to acquire the same profit.
5. Franchise or Not?
One big decision that a gym owner needs to make is whether they want to open up their own independent MMA gym or go through the franchise route. There are many benefits of joining a franchise such as having the use of an established brand name, business and marketing exposure as well as connections to the industry and resource that may not be available or hard to find if you open your gym from scratch.
For the most part, MMA gyms are not franchised. However, there are several franchising options out there for potential gym owners. The following list have examples of well-known gyms with franchising opportunities.
The downside of becoming an affiliate or franchise is the franchise fees, initial investment and associated royalty that may be attributed. You will notice that the franchise options table consists of BJJ gyms as well. Opening a jiu jitsu franchise does not mean you won't be allowed to have a striking program. In fact, most jiu jitsu affiliates have a striking program in their schools as well. The other reason jiu jitsu franchises are listed too is that they may have a smaller initial and overall investment to get your gym going. Below is an example of fees associated with MMA and BJJ gyms.
Franchise Fee and Startup Costs
UFC Gym: Franchise Fee $30,000 – $50,000, Minimum Franchise Requirement = $100,000
Victory MMA: Initial Investment = $55,000
Gracie Barra: Initial Franchise Fee = $8,000, Minimum Total Investment = $70,500
Based off the listed examples, UFC Gym is the most expensive option and but it's a huge global brand and could give you the most market exposure and a corporate structure to reliably run your business. While a jiu jitsu franchise like Gracie Barra is also a fantastic option because it is one of the largest jiu jitsu franchises and it has a low initial franchise fee.
One thing to note about opening a franchise is that those initial fees do not account for the money needed to cover for costs such as rent, equipment, marketing, etc. An independent MMA gym startup costs could greatly vary. A quality gym could be started up for approximately $8,000, but the typical starting cost range is $15K-30K. Therefore, it's worth taking the time to research and decide whether franchising is for you or not.
6. Mats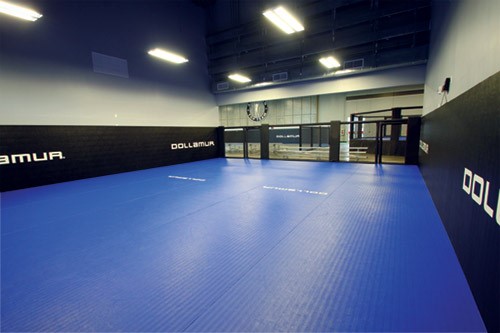 Mats are essential to an MMA gym. And you will find that mats are going to be one of your most expensive expenditures. You will probably need several types of mats for different types of activities. Look to spend at least a few thousand dollars just on mats. Here are typical estimates of the different types of mats:
Puzzle mats: $1.50-$2.50 per square foot
Grappling puzzle mats: $1.75-$2.50
Wrestling mats: $450-$550 per 10ft by 10ft
Gymnastics crash mats (for throwing): $70-$100 per 4ft by 8ft
The best place I found to get mats is Dollarmur.com. They are cheap, highly rated, and resilient.
7. MMA Equipment
Bags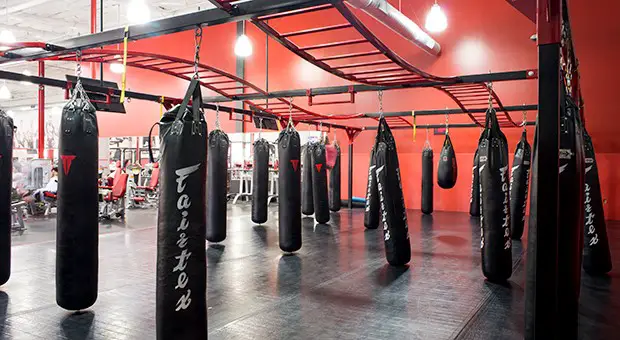 Bags are also a necessity in your MMA gym. The most essential bags are Muay Thai bags. They are good for punching and kicking. They can range anywhere from $150-$250 for a filled bag, depending on the weight and brand. You can find some decent ones on Amazon. If you want to go the cheaper route, you can get an unfilled Muay Thai bag for anywhere from $80-$120 and then fill it up with sand yourself. But just know, that's a lot of sand and work to fill bags that weigh 100 to 150 pounds.
You will probably need bags of different weights to accommodate different people.
After taking care of Muay Thai bags, you can think about getting boxing bags, target bags, double-end bags, and speed bags. But the Muay Thai are the most necessary. All other bags are optional and can be bought as you grow.
Gloves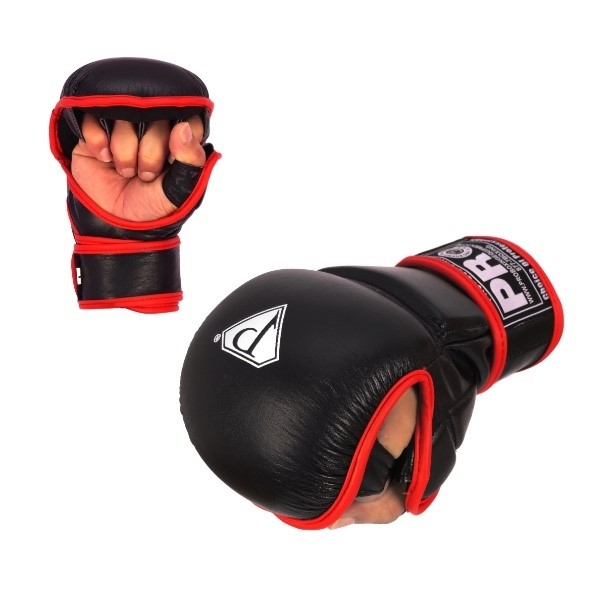 Gloves are also essential to an MMA gym. You need gloves for yourself but you also need gloves for your potential members. A lot of times, new members will come in to check out your gym and will not have any equipment. That is when you need to have some on hand for when that time comes. You should get fairly cheap but sturdy ones, and of differing weights. 
The gloves you buy should be in the $40 to $80 range. That is the price range you should aim for when starting out. They aren't expensive like the Cleto Reyes boxing gloves, but they are sturdy enough to last you a long time. 
Shin Guards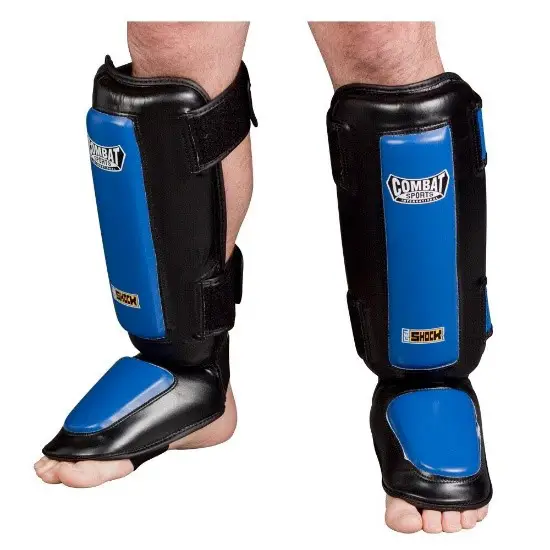 Shin guards are important if you plan to do any kickboxing at your gym at all. Shin-on-shin contact hurt so shin guards protect against injuries to the shin. Just like above, you should have these handy for when potential members come in to try your classes. You don't need as many shin guards as you do boxing gloves, but you should still get at least 4 pairs or so to start. 
Head gear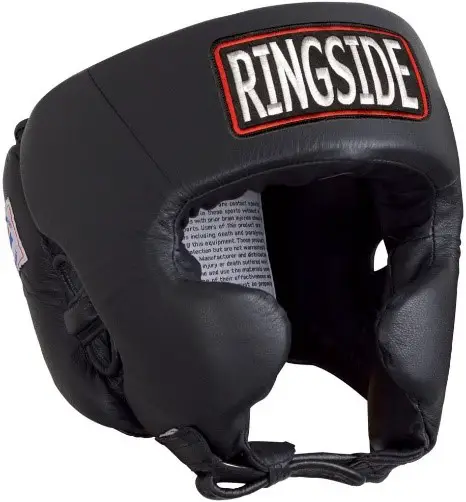 Head gear is necessary if you allow sparring in your gym. It will help protect your students from injury. Students who train regularly should have their own head gear but you should provide at least a few for potential students or when your existing students forget to bring them. 
8. Billing and Membership Software
I have been to MMA gyms that still use pen/paper and archaic systems to keep track of billing and membership. Don't go that way; it's a huge headache and takes a lot of time. Instead, use billing software to automate your billing and enroll your members into recurring billing. For billing and membership software, Virtuagym, Zenplanner, and Mindbody are the most popular. Each of these companies offer a mobile-based app for the gym owner and their members as well. The table below provides a comparison between these three software options. In addition to its monthly starting price, the table also list features that are solely unique to each software.
| | | | |
| --- | --- | --- | --- |
| | Virtuagym | Zen Planner | Mindbody |
| Starting Monthly Price | $29 | $117 | $129 |
| Feature 1 | Martial arts challenge | Prospect emails | Video-based services |
| Feature 2 | Online community discussion groups | Website options | Live streaming capability |
| Feature 3 | Online class signup | Data export | Detailed client profiles |
Marketing Your Gym
Marketing is one of those things I see many gym owners struggle with for whatever reason. But marketing is pretty important to the growth and success of your gym. The first step of marketing your gym is obviously having a website. The second step of marketing is having a Facebook Page. A Facebook page allows people on Facebook to mention your gym and to stay updated with your gym. Therefore, having a website and a Facebook page is a must. But here are other things you can do to market your gym.
Ask people to review your gym: If your members love your gym, ask them to review you on Facebook and Google. Personally, to me, Google reviews are much more important because it helps with your search engine rankings—meaning people will see your gym more often when people search Google for MMA gyms around your area. Also, people will see those reviews when they look your place up on Google.
Videos: I found videos, especially, tutorials, are a great way to get people in the door of your MMA gyms. Videos show the legitimacy of your gym and what kind of gym it is. It will also show off the personality of your gym and you. The videos should be uploaded on both Youtube and Facebook. The shareability of videos make it for a great way to get people to notice your gym.
Search Engine Optimization (SEO): Optimize your website so that it ranks higher in the Google search results. This is a topic that would take months to  even start learning. But learning doesn't mean that it will be implemented (well). So if you are hell bent on learning it, you can. But you can also find some pretty good agencies to do your search engine optimization for you. Don't always go for the cheapest because they can do some shady stuff. Go for reputable agencies that have a long history of providing long-term results.
Online ads: The old adage goes "you gotta spend money to make money." Although not necessarily absolute truth anymore in today's business world, it does still hold a lot of weight. Online ads take some time to learn so if you are not familiar with it, you may have to hire an agency to do it for you.
Personal Website
The website is going to be one of the most important factors in your gym's success. It's not a question of whether you need a website or not anymore, it's a question of how much you are willing to spend on it. Your website does not need to be updated regularly and does not need to be fancy. It just needs to show your schedule, your contact information, your bio, and maybe some pictures. Getting a website up and running can cost anywhere from $0 to $2,000, depending on who you hire. If you decide to do it yourself, it will cost nothing. If you decide to hire someone overseas through sites like Upwork, it will be around $300 to $500. If you hire a really good local freelance web developer, it will cost you $1000 to $2000. This is talking about a basic website, nothing fancy.
Website Hosting and Domain
The next step is to get a hosting provider and a domain name. If you are not really familiar with building websites and the technical aspects of maintaining one, I recommend getting your website from a big company that is really responsive to your questions. The company that I found to be the most responsive and helpful to my website troubles have been Namecheap. And although I haven't dealt with Bluehost nearly as much as I have with Namecheap, they are also very reliable when it comes to technical or billing support.
With Namecheap, there is no option to pay monthly on their Shared plans. Therefore, you have to commit to a yearly plan. However, it is only $19 for the whole year which is very cheap. With Bluehost, you have the option to pay monthly so you are not locked in for the whole year. After a couple of months, if you do not like what you have, you can cancel.
Website Building Platform
In terms of designing a website for your business, you could design one with the assistance from "website builders" instead of needing to hire web designers as mentioned previously. Squarespace is a beginner-friendly platform that gives you the ability to modify your website with ease and has plenty of ready-made templates to choose from.
Squarespace has four different monthly plans ranging from $16 to $46 per month. The pricier plans have more features available. The following is a list of the pros and cons of using Squarespace.
| | |
| --- | --- |
| Pros | Cons |
| Abundance of template themes available | Lack ability to fully backup content |
| Excellent customer service | Limited in customization options |
| Easy to navigate and use | 3rd party apps and extensions not accessible |
****
So the list above covers the many essentials you need for your MMA gym. I am sure there are some more things that you may end up buying but the list above will be 99% of the startup cost of getting your gym up and running. So now that you have a comprehensive guide to opening an MMA gym, I wish you the best of luck. Just remember, that to grow your business, the most important thing is to work on your business, not in your business.