If you are a devoted practitioner of yoga and love the positive vibes and effect yoga had on your personal life, it might be appropriate to consider if you should step away from the office setting and into a new path that fulfills your passion and puts money in your pockets.
Do you have prior experience instructing or assisting a yoga class? Do you have experience building a business, background in marketing or active involvement in social media? Yoga is a billion-dollar industry with low barriers to entry due to its lower start-up costs relative to other fitness industry businesses. As a result, it is critical to grow and promote your brand as well as being an excellent teacher. The information below is a guideline to get you going and ends your days with Namaste.
Market Research on the Yoga Industry
Yoga popularity is surging globally and the U.S. is a hot market for it. According to Allied Market Research (AMR), there were 20.4 million yoga practitioners in 2012 and this number grew to 36 million in 2016. AMR's graph in Figure 1 illustrates the popularity of yoga relative to another trendy fitness option called Pilates. This graph shows that a majority of the Pilates and Yoga market comes from yoga classes. Additionally, AMR forecasts a huge spike of growth in yoga classes for 2025, which shows how much more potential is still available for yoga.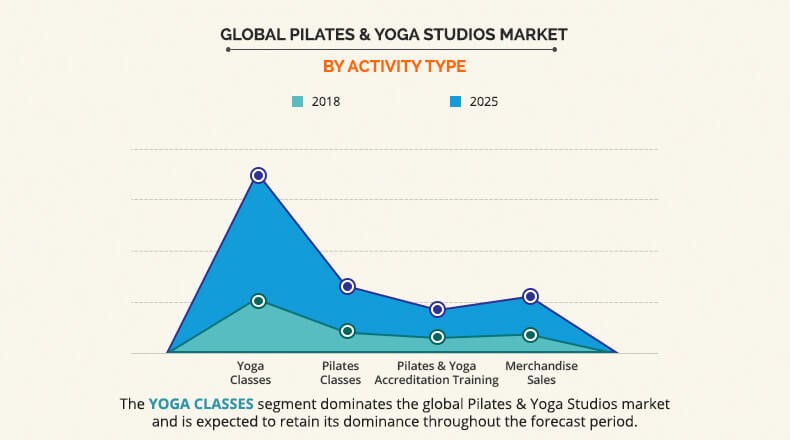 Figure 1. Allied Market Research 2018 and 2025 Comparison for the Pilates & Yoga Market 
To back up the impressive graph by AMR is Figure 2 by Statista. The bar graph shows the revenue brought in by the yoga industry for the U.S. market. According to Statista, the majority of the industry's revenue is due to yoga classes, which generated an astounding 71% of the $9.09 billion revenue made in 2015. The rest of the revenue within the Yoga market is due to accreditation training and merchandise sales. Much like AMR, Statista forecasts great success for yoga's future by projecting that there will be approximately 55 million yoga practitioners by 2020.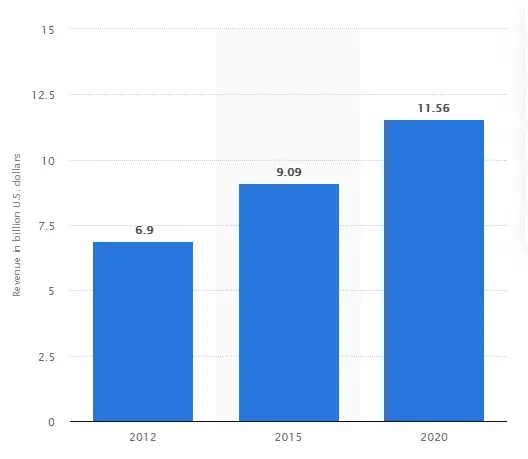 Figure 2. Statista bar graph for Yoga  
How Much Do Yoga Studio Owners Make?
There are no distinct statistics on how much yoga studio owners make. However, you can get a good idea of how much you can make when you look at the hourly wage of yoga instructors. According to Indeed, the average hourly wage for yoga instructors ranges from $29 to $42. Furthermore, below are the average wage for four major metropolitan areas: 
Los Angeles: $42.36/hour 
Baltimore: $34.04/hour 
Chicago: $33.37/hour 
New York: $42.48/hour 
Revenue
The following are typical prices for Yoga membership prices in my area, which is a major metropolitan area. These values provide a great representation for calculating a yoga studio's potential.  
| | |
| --- | --- |
|  Class Package  | Price  |
| Single Drop-In Class  | $22  |
| Limited Monthly Membership  | $85 per month  |
| Unlimited Monthly Membership  | $125 per month |
| Annual Unlimited Membership  | $1,400  |
 With these numbers, you could expect to generate $75,000 revenue annually with simply 50 members on the unlimited monthly membership. The total revenue does have room to grow once you account for merchandise sales as well as the private yoga sessions. For example, the research from the Thumbtack company shows that the national average price for a private yoga session ranges from $70-$80 per session.  
Expenses
Of courses costs are variable. If you want to hire an instructor, you would have to pay them for the classes they teach. Also, the facility you are renting will also need to be considered into expenses. Additionally, you may need to hire some administrative support. You can pay for the administrative support or you can allow them to take classes for free. 
Equipment expenses are one-off expenses that are not recurring. For yoga studio, the required equipment is minimal. All you have to do is have the proper flooring and some extra mats for the students that did not bring theirs to class.  
In addition, marketing costs need to be figured into the equation. Marketing costs will be a lot more in the first few years as you are starting out. However, even with a business that has matured, you can expect to spend at least $2,000 a year on marketing costs. 
Yoga Alliance
Even though it is not necessarily required, being registered as a yoga teacher with Yoga Alliance is starting to become the standard. Yoga Alliance was created for the purpose of having an internationally recognized industry standard for yoga teacher.
Registration as a Yoga Teacher
To be a Registered Yoga Teacher (RYT) under Yoga Alliance, complete the following tasks:
1. Find a Yoga Alliance registered yoga school (RYS). 
2. Complete 200 hours of training at the chosen RYS. Remember to record your training's start        and end dates.
3. Obtain the certificate of completion.
4. Create an account on the Yoga Alliance's website. 
5. Follow instructions to send a confirmation request to the RYS in order to prove your attendance and completion.
6. Pay the RYT registration and membership fees, which consists of a $50 one-time application fee and a $55 annual fee.
7. Last but not least, Yoga Alliance will expect you to review your experience at your RYS's training program.
After earning your registry mark, you will have access to online workshops and these continuing education events are searchable through Yoga Alliance's website. 
Profile
Upon successfully registering with Yoga Alliance, your profile will be searchable within their teacher directory. You will be able to list your teaching experience and where your yoga studio is located. Furthermore, this directory is helpful for finding authentic teachers when you are looking to hire others and it is also helpful in promoting your business.
Business Formation
This section focuses on the six basic necessities to make your yoga business become legitimate as well as the content required to protect your business.
1. Business Legal Structure
You must decide what type of business structure is appropriate for you. Common choices for a yoga studio would be either a limited liability company or a S-Corporation. These options also protect your personal assets during legal liability circumstances. LegalZoom's website provides additional details on the different business structures available and they could help assemble and file the documents necessary to form your business. 
2. Employer Identification Number (EIN)
After the business entity has been established in the prior step, it is now crucial to obtain an Employer Identification Number (EIN).  This federal tax ID is often a requirement for the following tasks: 
Open a business bank account

 

Apply for business licenses and permits

 

Pay employees

 

File federal tax

 
The EIN application could be completed through online companies like Legal Zoom for $79 or it could be completed for free through the Internal Revenue Service (IRS) online application. 
3. Business Permit and License
Take some time and research into what permits and licenses are required in your designated state and city. Try using the U.S. Small Business Administration's website to find this information. Make sure to have all the applications and associated fee payments completed properly. If you need assistance in determining the appropriate licenses and permits, go to the U.S. Small Business Administration website and search within their Local Assistance directory. This website will provide all the assistance center in your area. 
4. Business Bank Account
Protect your personal assets by creating a separate bank account that is solely devoted to your yoga business. Approach your local banks and talk to them about their offerings. Choose the bank and credit card accounts that fits your business needs best. 
5. Insurance
Minimally, a Liability Insurance policy is needed to protect your Yoga Studio from financial loss due to bodily injury. Take your time to look for the insurance that suits your needs and is the most cost effective. There are companies like BizInsure that could help you find insurance policies specifically targeted for yoga instructors and studios.
6. Release of Liability
Yoga is a physical activity and you do not want to be liable when a member accidentally hurt themselves. Rocket Lawyer helps you create a Release of Liability form that is appropriate for your business and helps against the event of a legal liability situation. Combine this with the liability insurance to protect and defend your yoga studio against injury-related lawsuits.
Yoga

Studio
 Business Plan
As you look for a rental space, be mindful of specific factors required for your yoga studio. 
Does it have the amenities you need for your members, such as bathrooms and changing rooms?

 

Does it have the capacity needed to fit your projected group session class size?

 

Do you want enough space to run only one group session or multiple group sessions at the same time?

 

Do you need to modify the flooring and room setup?

 
Importance should be placed into developing a business plan before you proceed to spend any money towards your business. A business plan will help you strategize and get you ready in different aspects of running a yoga studio. In addition to the questions above, the subsequent content are six subjects to keep in mind as your yoga studio business plan gets developed. 
1. Yoga Theme

 
There are numerous types of yoga that are currently being taught. They may differ from each other on a range of subjects such as yoga pose, pose sequences, difficulty and the incorporation of breathing exercises and meditation into the routine. Make sure to create a theme off the type(s) of yoga style you envision teaching at your studio. It is also important to build off this by developing a brand that is appropriate to present to your potential customers. Additionally, it will assist you in determining what amenities and equipment you will need for your studio. 
2. Schedule
Is it worth it to be open and flexible to everybody's schedule? Having more classes will mean hiring more teachers and being on the hook for payroll that may not offset the money made from membership, especially early on. Alternatively, trying to teaching all the classes yourself has a high chance of burning you out and leaves less time that should be dedicated for administrative and promotional aspect of running a business. 
On the other hand, you could avoid having classes during standard hours and target early morning (before 8 AM) and evening classes after 5 PM. This type of schedule may not be a fit for everybody, but it may offset the need for additional instructors and reduce the overall utility bill. The cost saved from this could exceed the profit from the attendees of the session scheduled during standard working hours. 
If you want to create a schedule based off of statistics, then you should definitely schedule classes in the 6 AM – 10 AM time range. Statista stated that this is the most popular time of the day to do yoga in the U.S. Ultimately, the final choice is up to you and what you think is best for your business.
3. Location
Location is a key to success and finding a prime spot that is affordable on your budget is ideal. This location may be desirable because of it is transportation convenience or parking space availability. It is important to take your time and research your area. For example, it is not beneficial to open up your studio close by another existing yoga studio.
4. Fee Structure
The fee structure on how you price your yoga studio could make or break your business. Therefore, you should know your market and what people are willing to spend in your area for yoga sessions. Set a price that not only will welcome new members, but will also reward recurring memberships. Common types of structure fees are charging per session attendance, multi-session packages and monthly unlimited yoga session memberships. 
5. Facility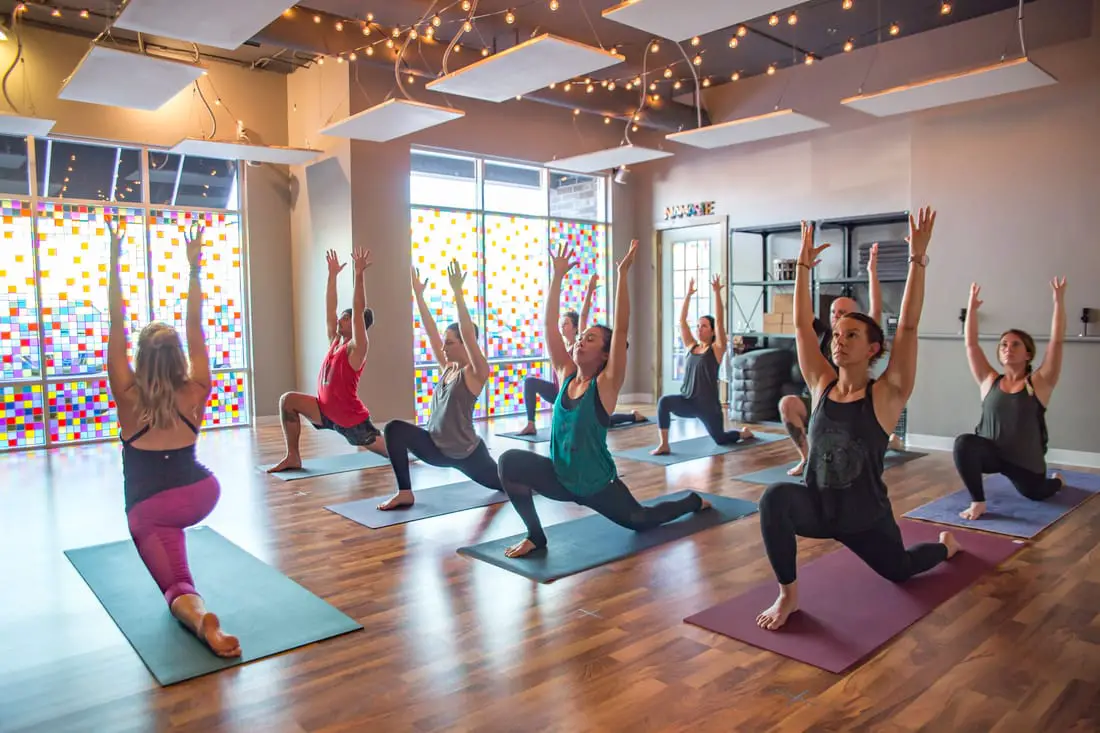 The Yoga business have low barriers to entry since they do not require as much expense and equipment like others gym related businesses. However, a profitable one still requires careful planning and well-made choices. Having a moved-in ready studio or one with minimally required construction will save time and startup costs.
Flooring
You most likely will have to replace the flooring at your rental space if they consist of either carpet or wood. Carpet's ability to hold moisture will cause it to collects odors, mold and bacteria among other things. Sweat from class participants onto wood flooring would make it slippery and a potential hazard.
A popular choice for yoga flooring is to use poly extruded matting (PEM). This type of flooring provides cushion for comfort, traction even under wet conditions, and odor-free due to the antimicrobial formula embedded in the material's construction. You can order this type of flooring from PEM Surface Creations. 
An alternative to PEM Surface Creations is Zebra. They manufacture yoga flooring in terms of 1 meter by 2 meter tiles with non-slip backing. Additionally, it is designed to prevent bacteria growth and Zebra include a 10-year warranty with these tiles! 
Hot Yoga Facility
Opening a hot yoga studio will require additional expenses due to increase in utility bills and equipment needed. In order to properly supply the desired heat and humidity level suited for hot yoga, you will need a climate-controlled heat room and a ventilation system. In addition to the equipment is the cost of the installation and modification to your existing facility.
6. Billing Software

 
Zen Planner is a convenient software for tracking and billing your customers. Its auto-billing and renewal features will help minimize the time dedicated to administrative work and maximize the time for you to live the yoga lifestyle. Additionally, Zen Planner software can be catered specifically to the yoga studio owners. 
Marketing and Promotions
Having an online presence is a must these days. To attract new members, you must be active and multitasking through different means to promote your business. The following are commonly used online methods for marketing.
Business Listing on Google
Create a profile at Google My Business to have information about your yoga studio be easily found through Google Search. This profile should contain your business hours, address, phone number and website. Additionally, this profile will allow people to get directions to your location via Google Maps.
Social Media

Promote your yoga studio through the power of social media. Four social media sites with large followings are Facebook, Twitter,Instagram and Google+. Have unique, informative and frequent updates on these sites to help promote and build your brand.
Brochures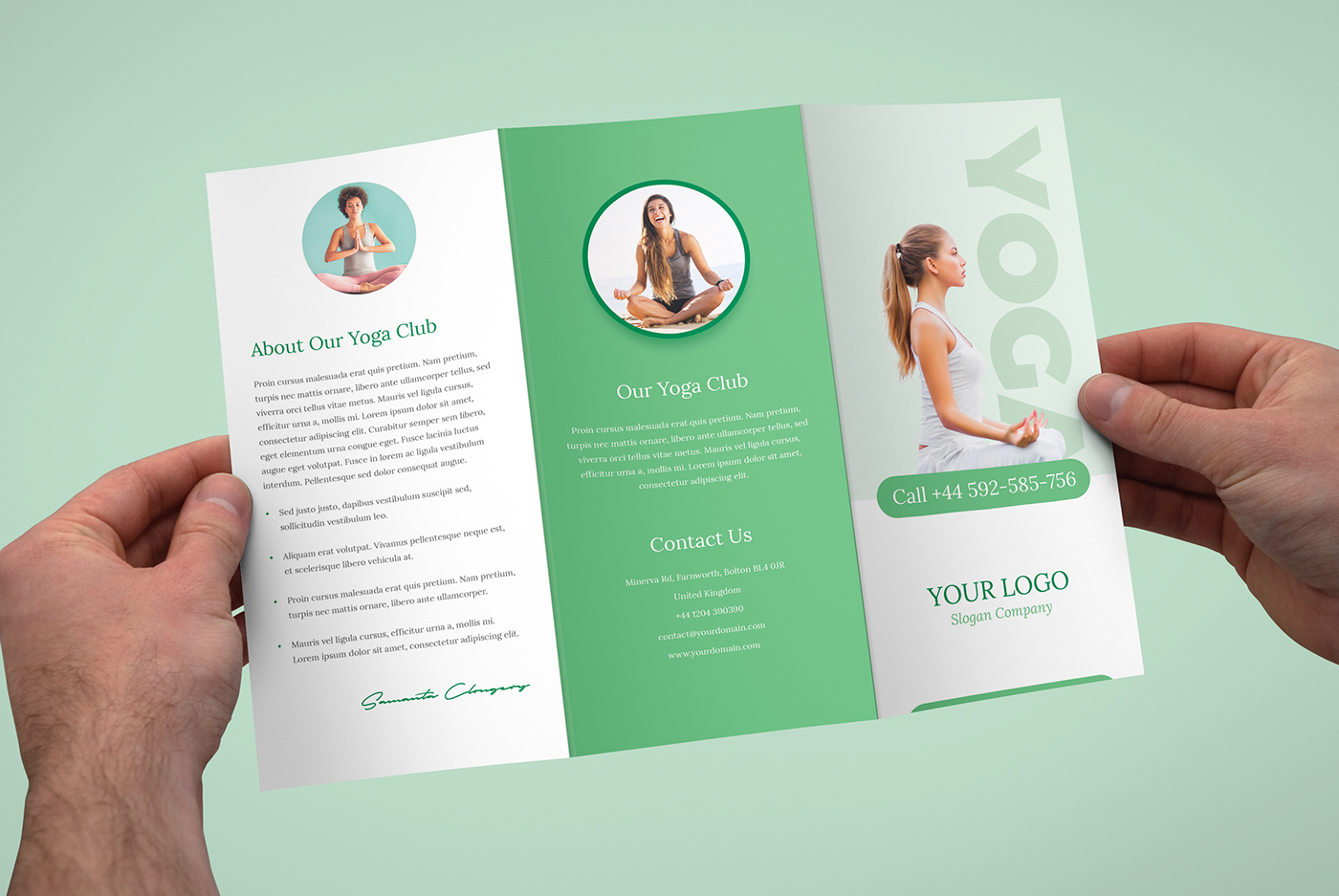 Printed materials like brochures would be great to handout and share with new visitors. Vistaprint is a great option for customizing and printing brochures with a professional look. Additionally, Vistaprint offers frequent promotional discounts to all their products. as well. 
Online Ads and Search Engine Optimization (SEO)

 
Online ads and SEO are additional options to promote your business. SEO is the method of having your website rank higher in search engines, such as Google and Bing, and increases the probability of people visiting your website. Both online ads and SEO will require searching for a proper agency to do it for you, unless you are willing to spend the time to learn it. 
Personal
Website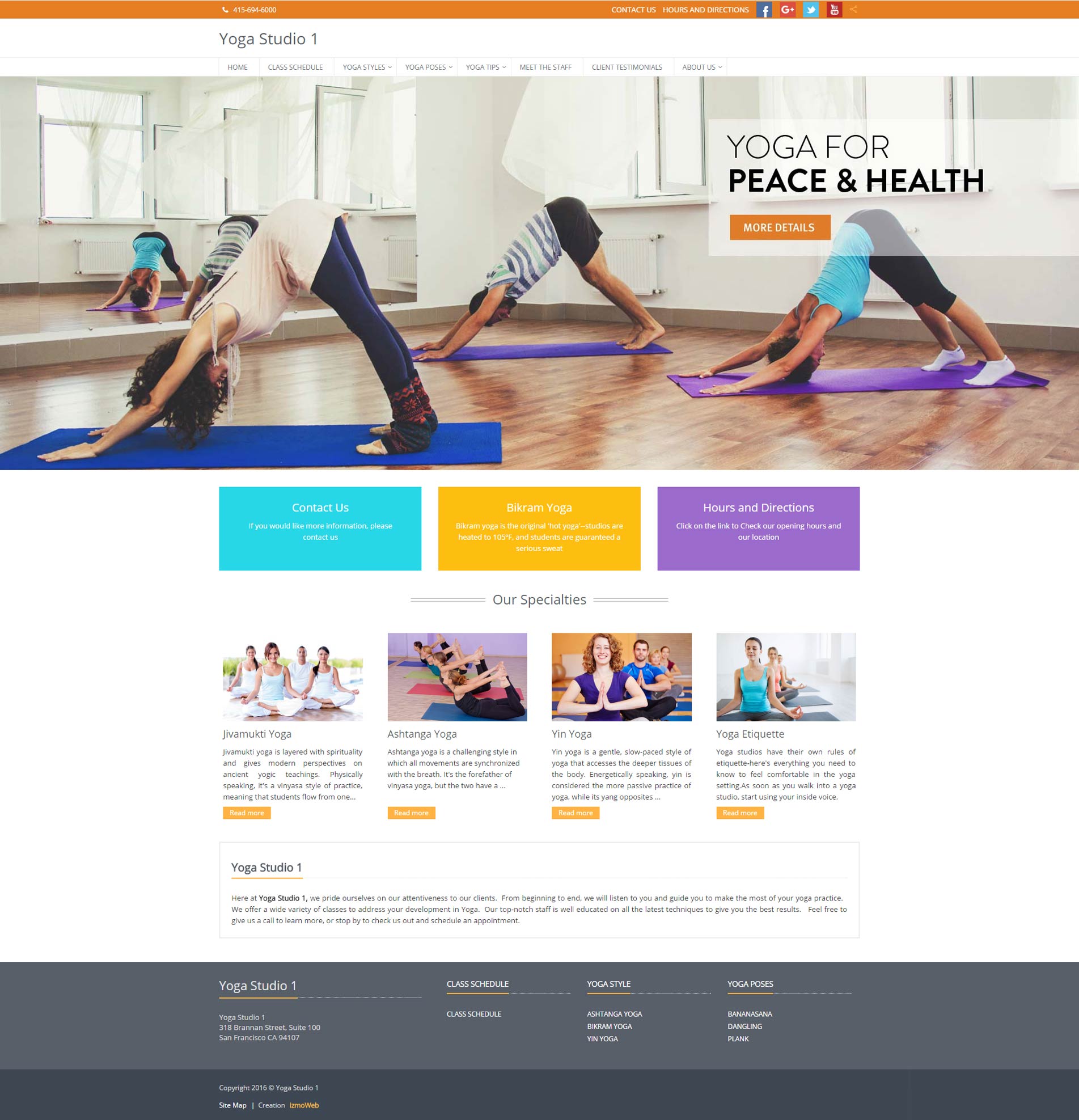 Having your own website is crucial to the promotion and brand building required to make your yoga studio successful. The formation of your website could be completed with the hiring of professional website designers or you could design your own at a fraction of the price. Those willing to spend the price to hire website designers could use sites like Upwork to find someone that fits their needs.  
If you have no experience building your own website, try checking out website building platforms such as Squarespace. They are easy to use options that simplify the process of creating your own professional website. 
Squarespace 
In terms of designing a website for your business, you could design one with the assistance from "website builders" instead of needing to hire web designers as mentioned previously. Squarespace is a beginner-friendly platform that gives you the ability to modify your website with ease and has plenty of ready-made templates to choose from.  
Squarespace has four different monthly plans ranging from $16 to $46 per month. The pricier plans have more features available. The following is a list of the pros and cons of using Squarespace. 
| | |
| --- | --- |
| Pros  | Cons  |
| Abundance of template themes available  | Lack ability to fully backup content  |
| Excellent customer service  | Limited in customization options  |
| Easy to navigate and use  | 3rd party apps and extensions not accessible  |
Website Hosting and Domain

 
Individuals with prior website building experience could bypass hiring other professionals as well as paying for website building platforms. In that case, try using Namecheap or Bluehost to create a domain name and use them as the hosting provider as well. Both of the previously mentioned companies are highly experienced with technical and billing support. They have package plans to fit the website needs of new startups as well as large companies.