The average freelance writer works an average of 36 hours per week. That's a lot of words written every week. Of course, all those words need to be edited for spelling and grammar, which takes up even more time. Combing through a piece to catch any small errors can be time-consuming and frustrating.
That is where Grammarly Premium for freelance writers comes in. Grammarly Premium is a proofreading/editing extension that automatically checks your grammar and spelling as you're writing. Grammarly is an extremely useful tool if you're a freelancer and have a high output volume per week.


What Is Grammarly Premium?
Grammarly is an online grammar checker and spell checker service. As of 2020, Grammarly has over 6.9 million daily active users, and the extension has been downloaded over 10 million times, making it one of the most popular grammar and spell checkers out there.
Grammarly launched back in 2008 and originally made its mark by selling its software product to universities. After gaining some funding and revenue, Grammarly launched a freemium consumer version of the software. Today, Grammarly is the grammar checking powerhouse of the internet and is used by people in all kinds of industries.
Grammarly offers two plans, the Basic version, and the Premium version. The Basic version is free but only includes the basic grammar and spell checker functions. The premium version is a monthly subscription and comes with more tools for editing and proofreading.


What Does Grammarly Do?

Here are just a few things that Grammarly can do:
Check grammar and punctuation

: Grammarly detects mistakes in grammar and punctuation, and offer real-time corrections

Check spelling: Grammarly will check your spelling for mistakes, and offer alternative spellings.
Plagiarism checker: Grammarly will check your text against thousands of other pages on the web.
Writing style recommendations: Grammarly will offer corrections to improve your text's prose and flow. This feature is particularly useful when writing for niche audiences.
Synonyms: You can also check for synonyms of common words to make your writing unique.


Grammarly works in real-time and can give you an edge with your writing. It will not only correct any mistakes you make but also offer suggestions to make your writing pop. Here are some examples of the kinds of grammar issues that Grammarly can detect:
Remove unnecessary commas to avoid comma splices

Word redundancy or overuse (tautologies like "period of time")
Ambiguous quantification or modifiers
Commonly misused words (sense/since, effect/affect, etc.)
Capitalization at the beginning of sentences
Structural parallelisms (Similarities in syntax and flow)
Incorrect prepositions (In/on, for/to)
Tense agreement (he runs/he ran)
Singular-plural agreement


As you can see, Grammarly can detect a wide range of issues. I have actually learned quite a few things about English grammar that I didn't previously know, thanks to using Grammarly.
Grammarly will also give you a score on your text, indicating how difficult it is to read, and give suggestions to improve your delivery and engagement, depending on the audience. For example, you can check the text for a "formal" tone if you are writing a formal document, or "informative" if you are writing an informative piece. 
One last feature Grammarly offers is expert proofreading. You can get a human expert to check over your document and give suggestions. Automatic checking tools are useful, but there are some writing problems only a human can reliably detect.


Who Should Use Grammarly?
Grammarly is a powerful tool that can be used by virtually anyone, even if they are not a native English speaker. Grammarly has a wide audience, made up of:
Bloggers

Marketers and copywriters
Professors
Students
Authors
Business Professionals


Grammarly is widely used because it is a flexible tool. You can change editing and suggestion settings to target specific audiences. You can change settings from American, Canadian, and British English so you can use it in multiple countries.


How Does Grammarly Work?
Grammarly checks your text in real-time. While you are writing, the tool will highlight any text that it checks and finds problematic. You can hover your cursor over the highlights to see suggestions and click on them to make the relevant changes to your text or dismiss the notice.
Grammarly uses different color highlights for different issues. Grammar and spelling issues are highlighted in red and other suggestions are underlined with blue. The app will keep track of the total number of notifications so you can either check on them as you go or wait until the end to address them all at once.
How Can I Use Grammarly?
Grammarly can be used in 2 major ways: the web tool or the browser extension.
Web Tool
When you log in to the webtool at https://app.grammarly.com/, you will be asked to create an account. Once you do, you can access the Grammarly web tool editor. On the left is the navigation dashboard that lets you check on your documents, your account settings, and other Grammarly apps.  
When you click on My Grammarly you will be taken to your documents. Clicking on New will create a new text editor window that you can start typing in. You can also directly upload a document from your computer to the Grammarly editor, or just copy and paste your text from another editor.
In the editor, the tool will automatically check your grammar and writing as you go. Whenever the tool catches a mistake, a flag notification displaying the issues will appear on the right next to the written document. You can click on these flags to take you to the portion of the text containing the mistakes.
The rightmost side of the pages also contains notifications about the text's reading score, delivery, engagement, and other suggestions. At the very bottom in the right-hand corner are two buttons for the plagiarism checker and another you can press to get expert writing services.
Browser Extension
Grammarly also has extensions for most popular browsers, including Google Chrome, Mozilla Firefox, and Safari. Once you install the plugin in your browser from the extension, the tool will automatically check your spelling in any text box you encounter while surfing the web or using any other browser-based applications.
Whenever you start typing in a field, then you will see the small Grammarly toolbar in the bottom right-hand side of the field. Mistakes are highlighted in red and the tool will display numbers inside a red circle which stands for how many errors it has picked up.
If you click on the red circle, the toolbar will expand and give you a full Grammarly editor look of the page. From here you can edit the document as if you were in the Grammarly web editor.
The Grammarly browser extension will work with most normally text editors that you will find on a browser, though there are a few issues. Most notably, the Grammarly extension might have trouble working with some WordPress themes. The Grammarly editor is also currently in beta for Google Docs compatibility, so you do not get all the functions when using Google Docs. 
Word Plugin & Desktop App
There are two more ways you can use Grammarly. Windows users can install a Grammarly plugin to Microsoft Word which operates much like the browser extension tool. Alternatively, you can download the Grammarly desktop app. The desktop app functions more-or-less the same as the web editor and is available for Windows and macOS. 
Unfortunately, Grammarly does not currently make a plugin for macOS word processors.
How Much Does Grammarly Cost?
Grammarly has two versions, Basic and Premium.
It's free to create a Basic account and get started. Unlike a lot of other free software packages, Grammarly's free version is generous. You get the grammar and spell checker tool, along with the writing score feature and ability to set writing goals.
Set Goals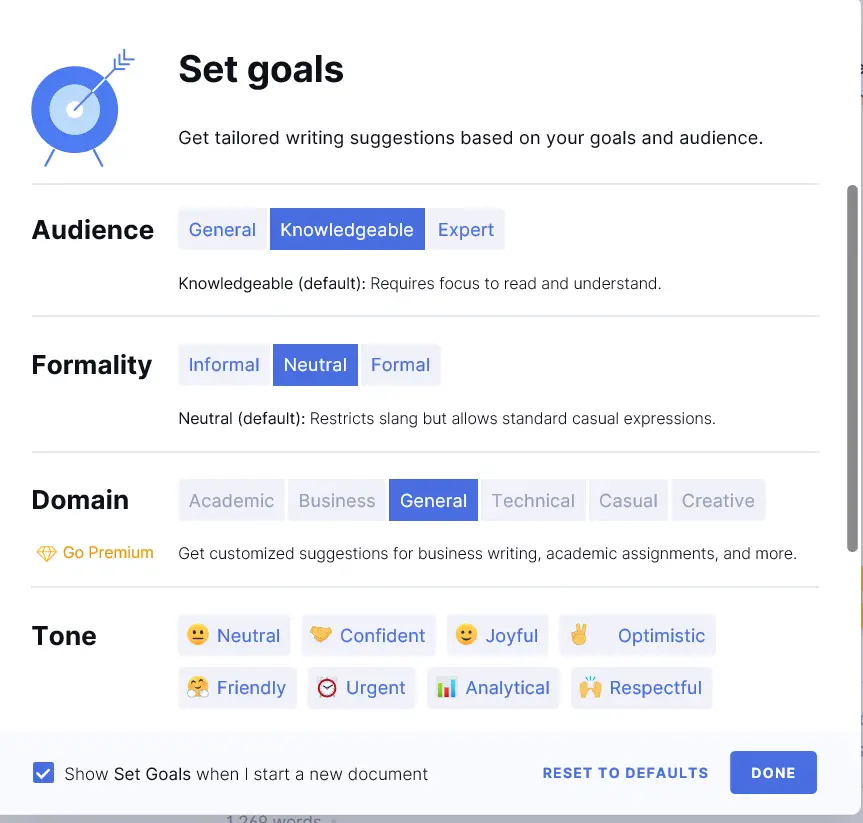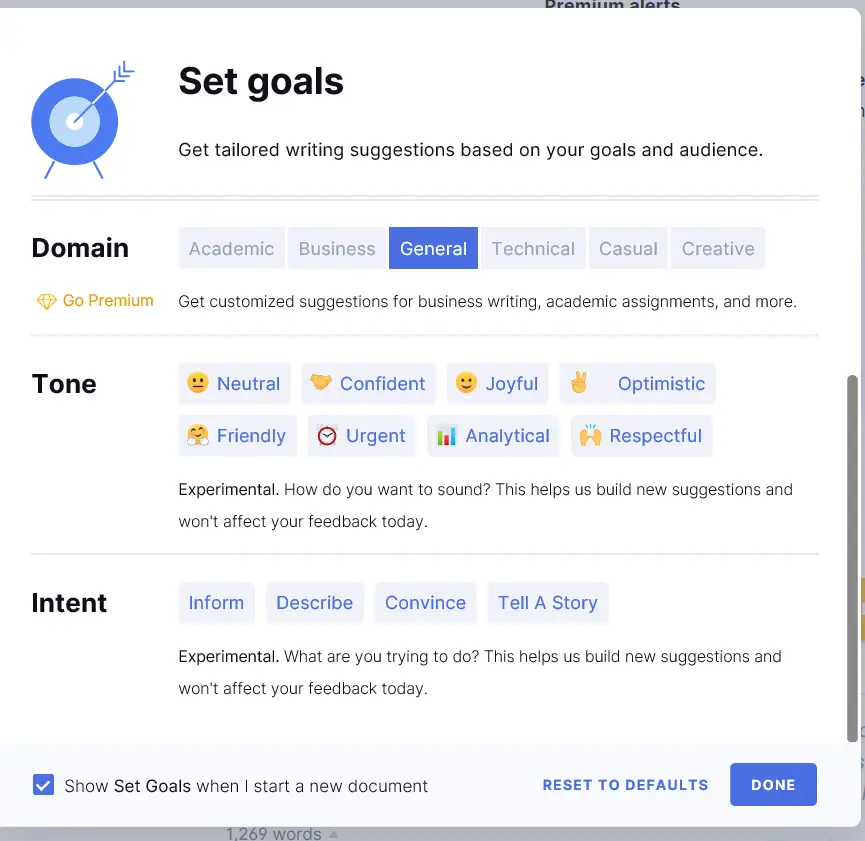 The Basic account doesn't have any limits to the number of words you can check. You can upload and check as many documents as you want and there are no limits on how many words you can check per document. In fact, a lot of writers can manage just fine using the free version.
The Premium version is a subscription plan. There are actually three pricing options for Grammarly's premium version:
Monthly: $29.95/mo

Quarterly: $59.95/quarter
Annual: $139.95/yr
The Monthly plan comes out to about $360 a year and the quarterly plan about $240. So buying a yearly Grammarly subscription can save on your costs in the long run. The premium version includes the basic spell checker functions but also includes premium suggestions about word choice, sentence construction, and more.
The premium version also has more suggestions and will give more detailed info about the mistakes it detects. The premium version also will catch more mistakes. You can see from the same article below, the Premium version (second picture) gives a lot more suggestions than the Free version (first picture).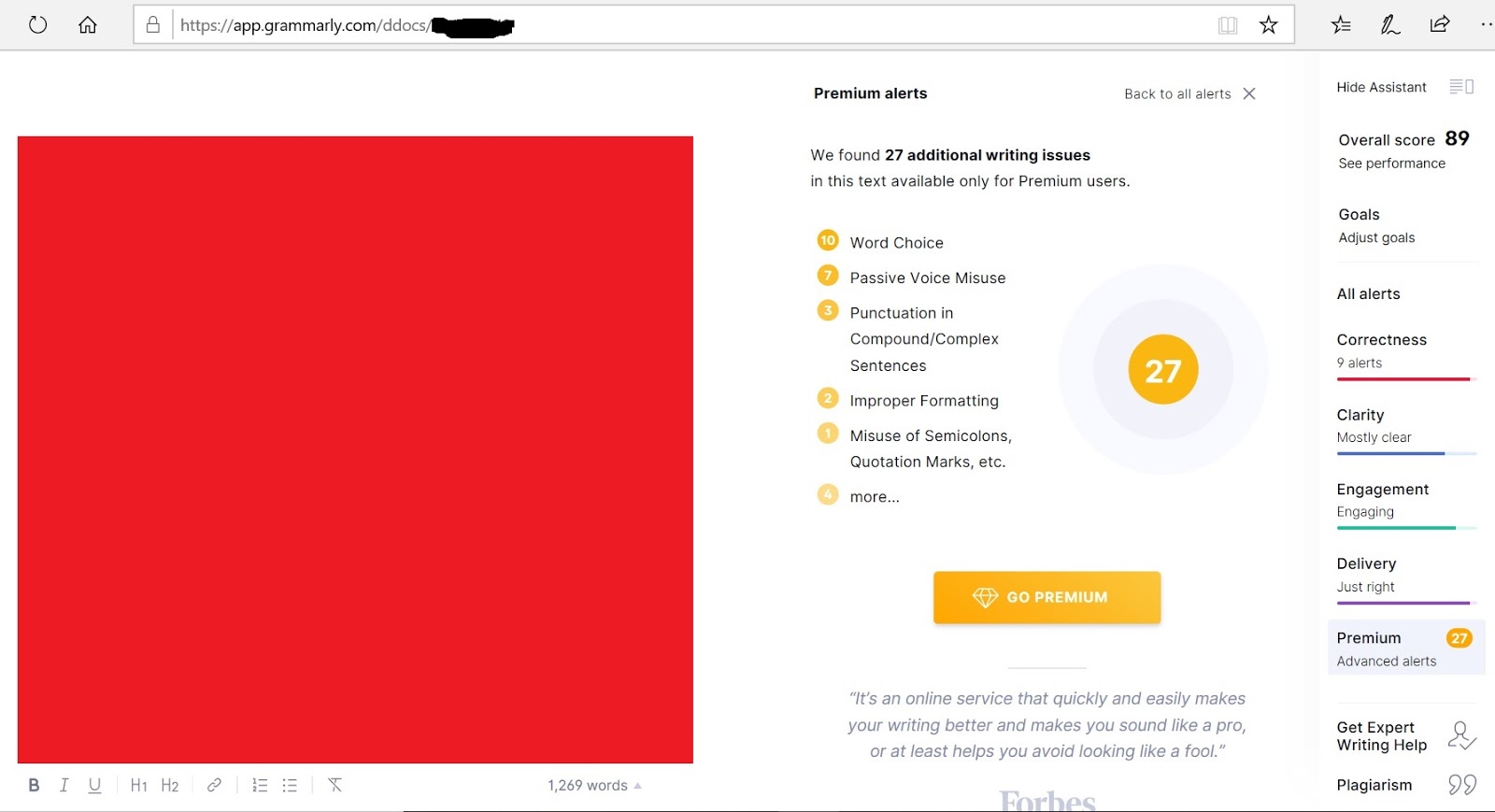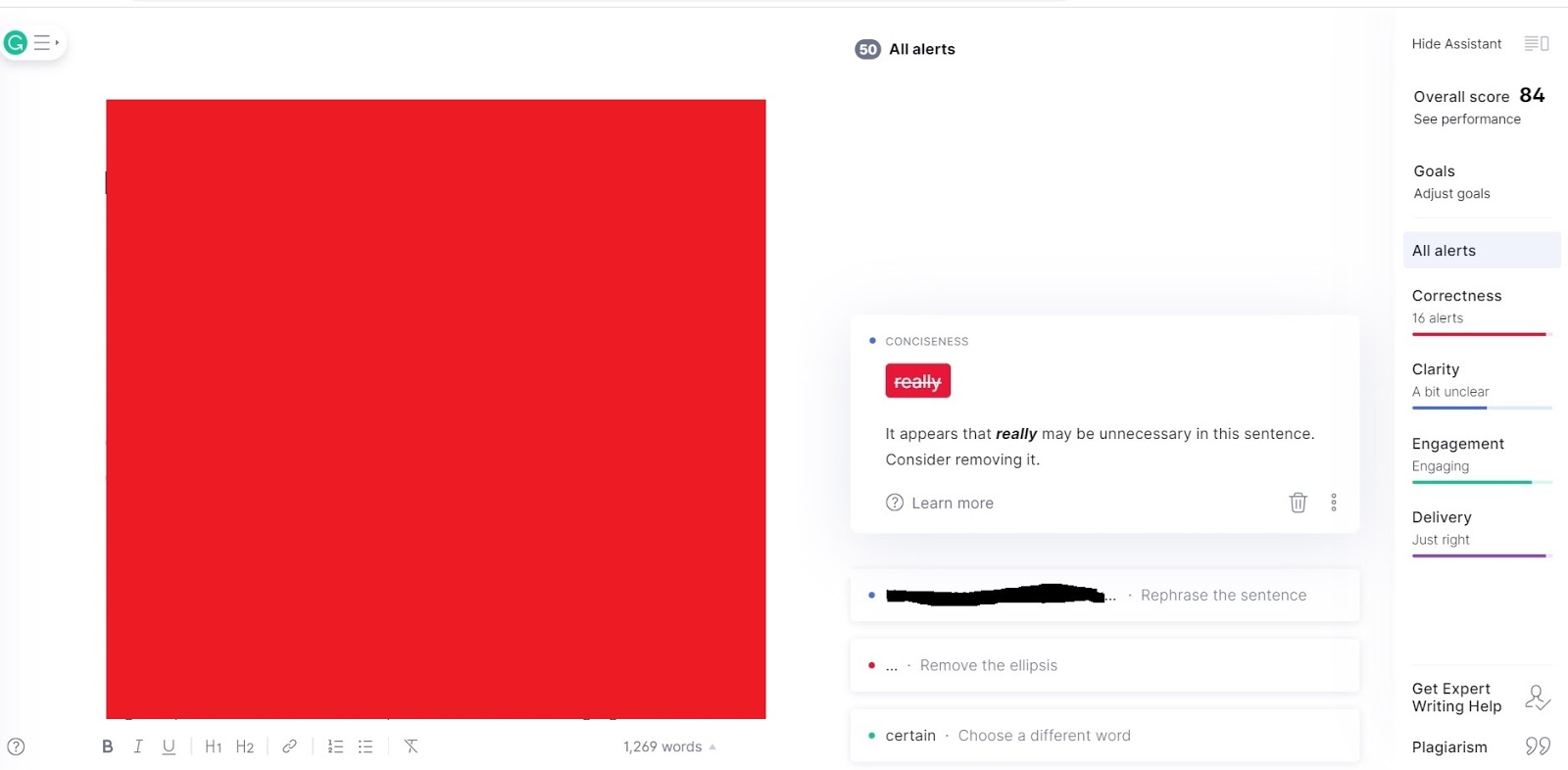 Grammarly also recently launched a business version of the tool. The Business version has the same benefits as the premium tool but also includes business-specific features like admin controls, a simplified billing structure, report and analytics tools, and priority customer support. The Business plan costs $15 per person per month.
Is Grammarly Premium Good for Freelance Writers?
Grammarly Premium is probably one of the best tools a freelancer can have. I use Grammarly myself (it's checking while I'm writing this article!), and it's one of the most useful writing tools I have in my arsenal.
Grammarly Premium can drastically reduce the amount of time it takes to edit and proofread your documents. Editing and proofreading can take a while, especially with longer documents, so Grammarly can make the writing process much more efficient.
Grammarly can also make your pieces sound better. The creators really took their time researching English grammar, and the suggestions are fitting and accurate. You will probably learn a thing or two about grammar you didn't previously know using the app. The synonym tool, in particular, is useful for giving your writing a unique voice.
Are There Any Drawbacks to Grammarly Premium?
The only real drawback to Grammarly is the price of the premium version. If you pay on a monthly basis, then you'll end up paying about $360 per year for the service. You can get the same plan by paying annually and save over $200, but many people don't want to make a commitment a year in advance.
Aside from pricing issues, the only drawback is that the extension tool can sometimes not work. We've noticed that the extension checker can have trouble with some WordPress themes.
In some cases, the extension can mess up when you resize the screen. Most of the time, this just results in highlighted lines becoming unaligned form the test. If you reload the page, it should fix any offset issues.
Keep in mind that Grammarly is not perfect. Sometimes, the tool can tag something as incorrect when it is not. This is most often in the case with brand names, slang terms, stylized spellings, and certain writing conventions. For instance, the tool sometimes applies tense agreement between nouns in a prepositional phrase and the verb of the sentence, rather than between the subject and verb of the sentence.
Grammarly will also sometimes not catch incorrect words (e.g., fare/fair). That is why you should always go over your pieces by hand, even if you are using an automatic spell checker.
Conclusions
Grammarly Premium is one of the most useful tools a freelance writer can have. It can check your spelling and grammar, provide suggestions to improve writing flow, and modify your writing for different contexts, audiences, and styles. The free tool has a generous amount of features, and the premium version can be bought for a reasonable yearly subscription fee. The amount of time it saves you just from catching mistakes during the writing process is very valuable. 
If a 1,000 word article took you 2 hours to write without Grammarly but took you 1.5 hours with Grammarly, you are saving yourself a lot of time throughout the year. That means you can make more because you can take on more work. If Grammarly shaves two hours a week off your current workload, that means you may be able to write one more article per week. If you make $60 per 1,000 word article, then that's an extra $3,120 of earnings per year (60×52). That more than pays for the yearly membership of Grammarly Premium.
So if you are a freelancer and you want a way to make the writing process more efficient and take in more work, then Grammarly Premium could be the solution. You can always try the free version first then upgrade to the Premium version if you are satisfied.