We all know first-hand that mobile phones are becoming more ubiquitous in our personal lives. However, many people still use desktops/laptops for work and business.
So on the whole, is mobile or desktop usage more popular? To answer this question, we delved into a bunch of statistics to look at mobile/desktop usage trends in different countries. Not all countries are the same and as such, not all tech use is the same.
United States Mobile Versus Desktop Usage
Let's look at the 5-year trend for worldwide versus the United States when it comes to mobile versus desktop/laptop internet usage. The data is from Statcounter, which uses the browser's useragent string to obtain device information. And because the string does not differentiate between desktop and laptop usage, those devices are combined.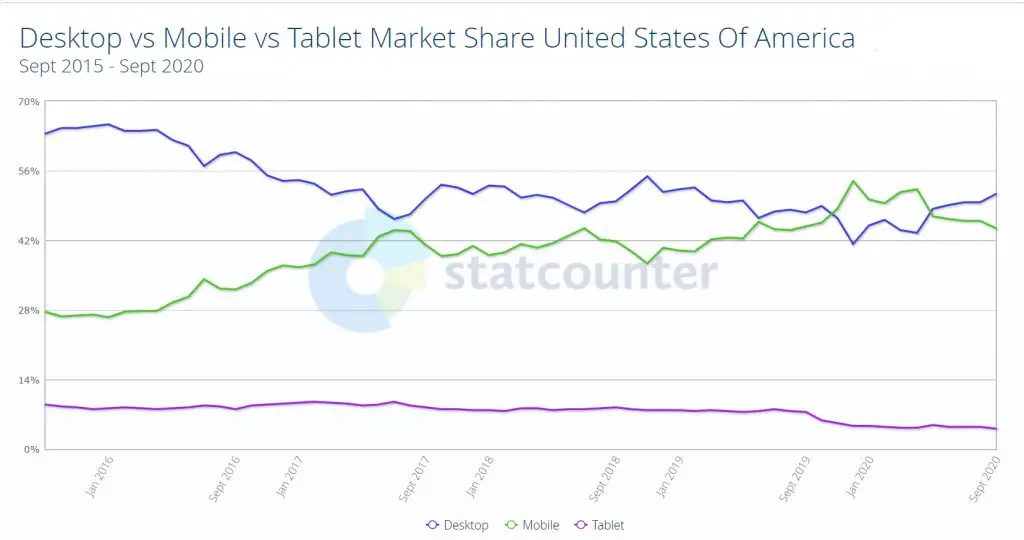 United States users access the internet from their desktops slightly more in 2020. For the last quarter of 2019, mobile internet usage surged, peaking at 54% in December 2019. The mobile dominance trend continued until April 2020. From thereafter, desktop usage regained dominance. Desktop usage is currently 51.41% as of September 2019, with mobile usage at 44.42%, and tablet usage at 4.17%.
There is very little doubt that the coronavirus has had an impact on the surge in desktop usage. As CNBC reported, PC sales surged as coronavirus began to take hold. The combination of online classes, Zoom conferences, and working from home lifted desktop/laptop usage.
Panos Panay, Microsoft's chief product officer, wrote in May 2020 that "Windows 10 usage has increased 75% year on year."
According to International Data Corporation (IDC), PC and laptop shipment posted double-digit growth in the second quarter of 2020 in the United States. These volumes have not been seen since the end of 2009. IDC expects this trend to continue as long as coronavirus continues.
So in the interim, as the coronavirus ravages on, it seems that desktop/laptop will remain the more popular option to access the internet in the United States.
So what about the rest of the world? Let's take a look.
Mobile Versus Desktop Usage Worldwide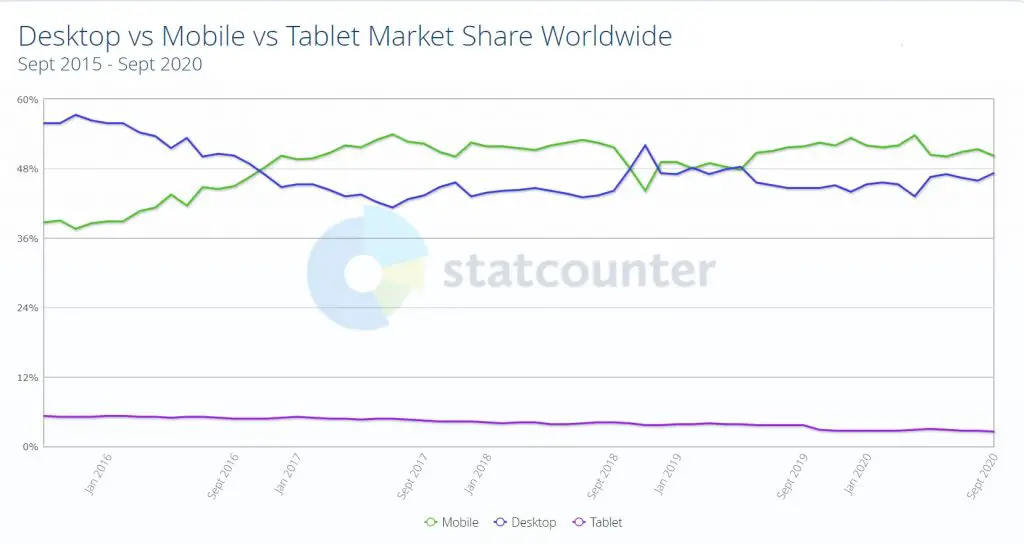 Like in the United States, tablet usage continues to be a very small percentage of global usage, at 2.63%. However, mobile device market share continues to be slightly above desktop—50.33% compared to 47.04%. But this number is somewhat skewed because of India and China. We will go into that later.
However, it isn't really fair to compare one country to the whole globe. As such, we should look into the numbers of specific countries.
Is Mobile or Desktop More Popular In India and China?
The following two charts are the 5-year trends for the two largest countries in the world. These two countries combine for over 35% of the world population.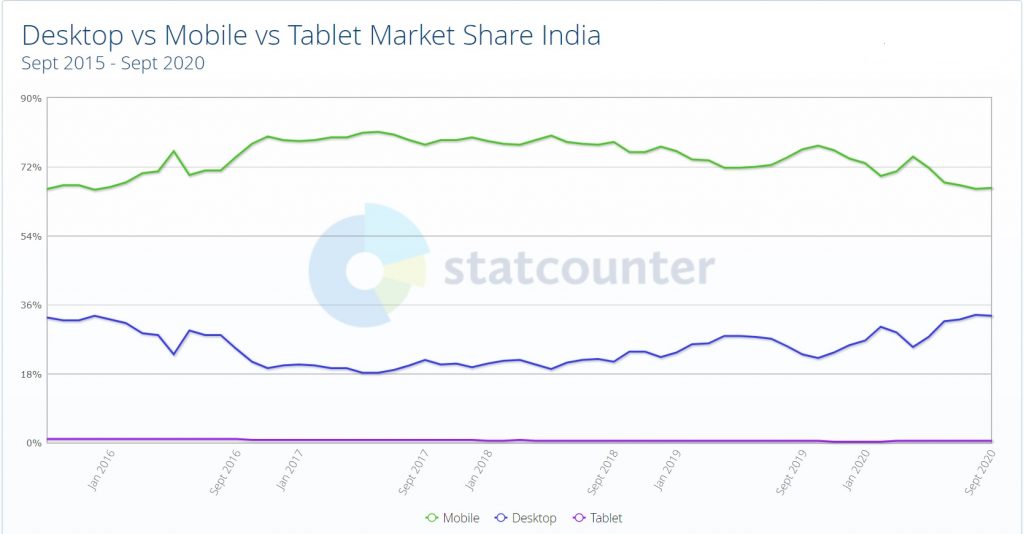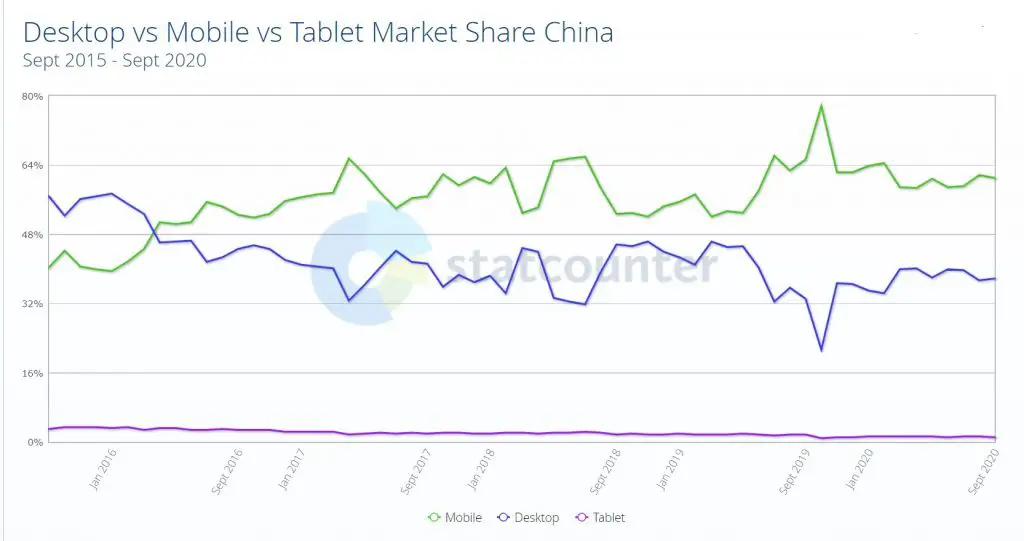 In both countries, mobile device usage continues to dominate by a lot. In India, mobile usage is currently at 66.54%. In China, mobile usage is currently 61.08%.
While both countries were quick to adopt mobile technology, India mobile market quickly overtook its desktop market much earlier. China's mobile market share overtook desktop in April 2016. In India, it happened almost four years earlier, in July 2012.
Mobile Usage in Developed Countries
In other developed countries, mobile versus desktop market share is pretty close to even, much like the United States. Desktop usage retain the majority of market share in most developed countries. Here is a look at some usage data from several developed countries (Germany, Canada, Japan, South Korea).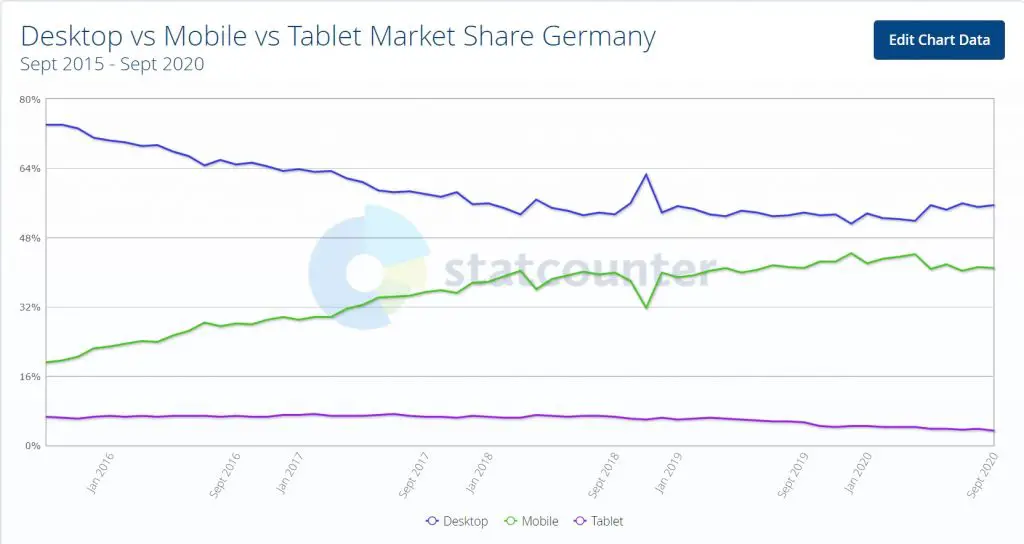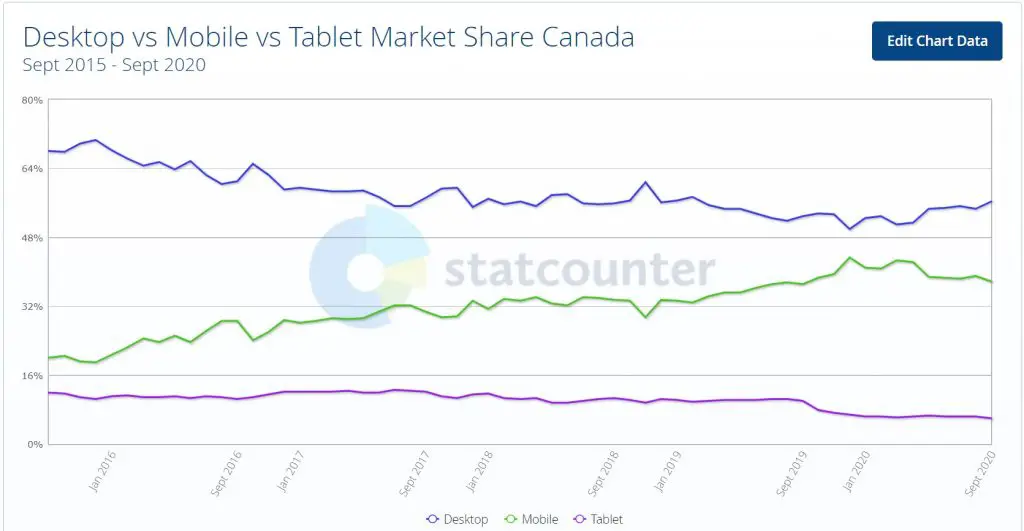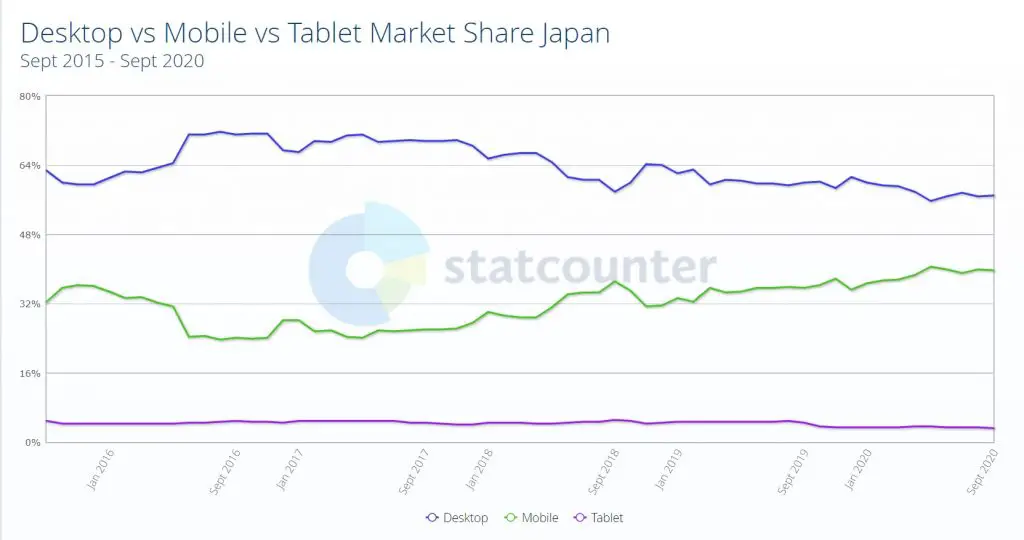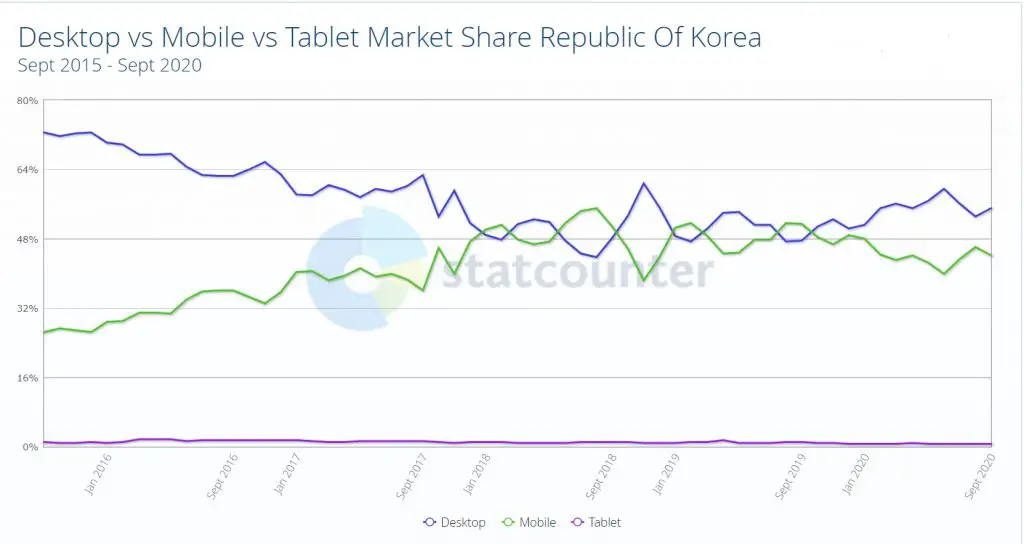 As you can see, Statcounter has desktop usage slightly edging out mobile in all the countries above.
Mobile Versus Desktop Usage in Developing Countries
For developing countries, it is really on a case-by-case basis. The map below shows the predominant device used in each country. Blue means desktop has the majority market share and green means that mobile phones have the majority market share.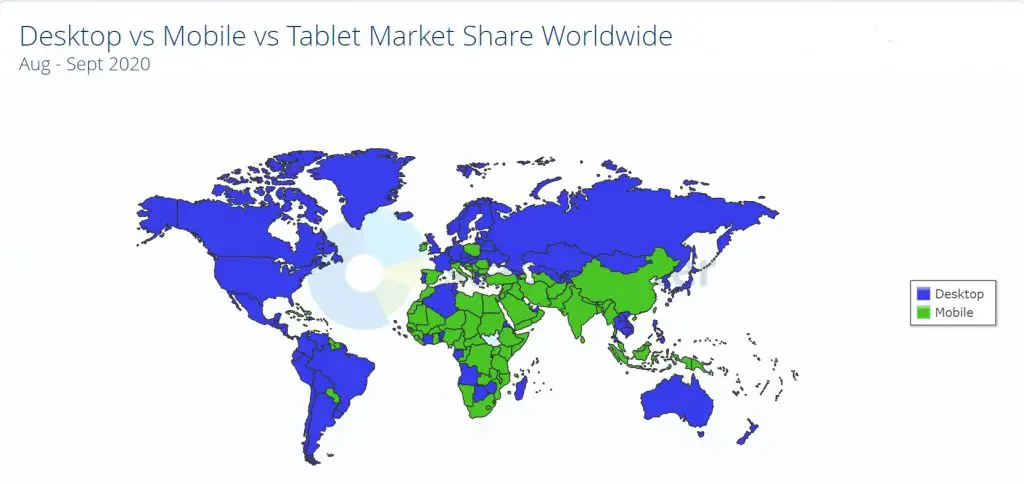 For most countries in Africa, Southwest Asia, and directly north of Australia, mobile phones are used the majority of the time to connect to the internet. But for much of the rest of the world, desktops are still used more than mobile devices for internet—even if slightly.
There are several countries where desktops are heavily used over mobile phones to connect to the internet. These countries include Vietnam, Peru, Brazil, Columbia, Venezuela, Ecuador, and Russia. Desktop market share is over 70% in all these countries. In fact, Vietnam (an upcoming manufacturing powerhouse), has desktop market share at 77.91% as of September 2020.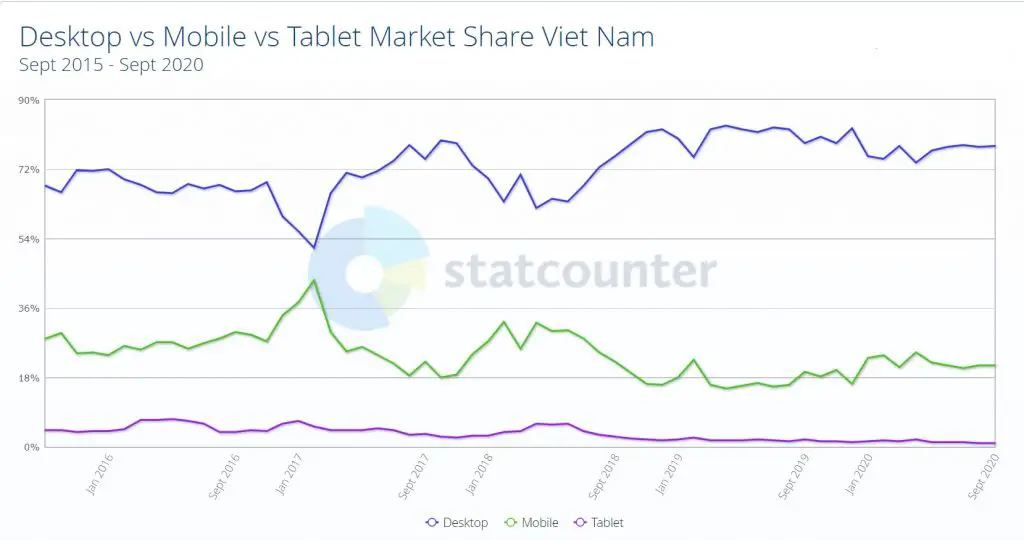 So if you subtract India and China from the dataset, it seems that desktops still the most popular way to connecgt to the internet.
What All This Means For Publishers, Business Owners, and Marketers
While mobile phone usage has surged in the past decade, it appears that the growth rate has slowed down some. The coronavirus pandemic has no doubt lifted desktop and computer hardware suppliers out of a multi-year slump as a result of increased usage.
For marketers, business owners, and publishers, this is also good news. It is widely acknowledged that desktop users convert better. This is because there is much more screen real estate and stronger buyer intent. In fact, according to Statista, desktop users convert at almost 3 times the rate of mobile users. As of 2019, desktop users have a 4.14% conversion rate while mobile users have a 1.53%.
The chart below compares the conversion rate across all device types from 2013 to 2019 for the United States. Although mobile phone conversion rates have improved from 1.14% in 2013, it still lags behind both tablet and desktop.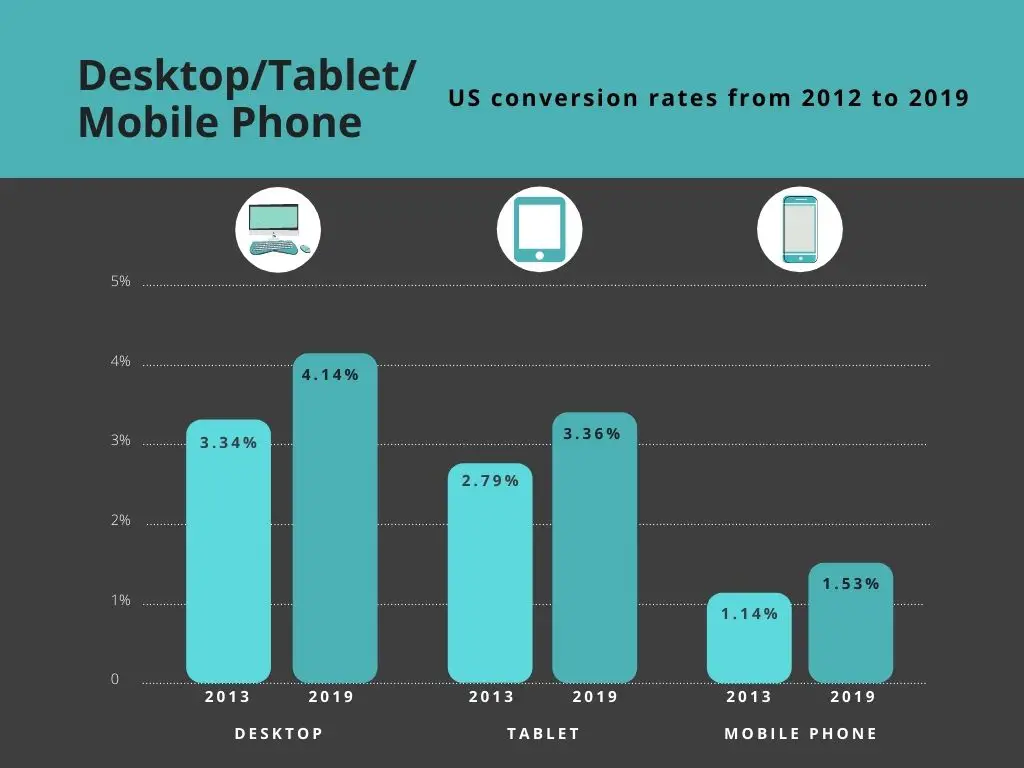 Additionally, SaleCycle notes that 63.2% of all sales happen on the desktop.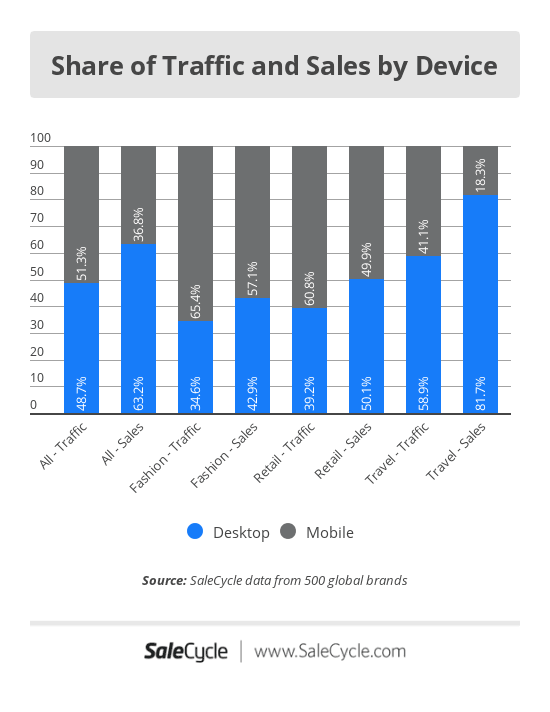 It remains to be seen what will happen to desktop usage in the future. But for now, marketers, business owners, and publishers should still invest heavily to convert desktop users.