US companies often shop overseas for manufacturing material. It can be tempting to cut production costs and try to increase productivity. That is to say, cutting costs is the primary reason American companies seek manufacturing overseas. China is often the United States' go-to when it comes to manufacturing. 
However, with the fracturing of relations between the two countries as a result of the 2020 pandemic, many businesses are looking to see if it is worth it to move manufacturing back to the United States. Businesses of other countries have started, such as Japan. And according to Supply Chain Dive, 64 percent of businesses in April 2020 say that reshoring is likely in order to prevent difficulties in the future. 
While from a purely monetary standpoint, manufacturing in China was a no-brainer one or two decades ago because the cost difference between the two was huge. Companies saved 15 to 20 percent by manufacturing in China. However, that is no longer the case as China's wages have grown immensely. Today, manufacturing in the United States is only 5 percent cheaper than it is in China. And that is before we take into account the recent tariffs slapped on Chinese imports. So it does make sense now to think about where you want to manufacture your goods.
In this article, we will break down the pros and cons of manufacturing in China versus the United States so that you can make an informed decision on where to produce goods for your business.
Comparison Tables: Factors to Consider When Choosing a Manufacturer
There are many factors to consider when choosing where to manufacture your goods. We have gathered data from various sources analyzing the costs/benefits of doing business in the two countries. See them below.
Brookings Institute Scorecard
In table 1, we have the comparison scorecard by Brookings Institute.
A global manufacturing scorecard from the Brookings Institute compared nineteen nations. The scorecard graded the countries according to five main factors, which are 1) overall policies and regulations; 2) tax policy; 3) energy, transportation, and health costs; 4) workforce quality; and 5) infrastructure and innovation.
Overall policies and regulations grade how pro-business the country is, how risky it is to operate a business there, corruption, and open trade policies.

With tax policies, the scorecard looks at corporate tax rates, tax credits (such as for R&D), credit and expensing options, and government grants/loans to support manufacturing.

Costs analyze electricity, oil/liquified natural gas, and healthcare costs.

Workforce quality analyzes K-12 government spending, higher education spending, family income, labor productivity, and labor support.

Infrastructure and innovation analyzes infrastructure spending as a percentage of GDP, internet access, patent filings, R&D spending as a percentage of GDP, and hazard exposure.
Table 1. Scoring the Manufacturing Environment between the U.S. and China (2018)
The U.S.A

China

R&D Tax Credits/Expensing

Infrastructure as Percent of GDP
Source: Brookings Institute
The ratings range is 1-5, with five being the highest. 
From the table, we can see that US manufacturing offers a higher average score than Chinese manufacturing (3.77 versus 3.15).
As you can see, the United States scores well in many categories and subcategories. The thing it scores the lowest in are corporate taxes and healthcare. 
China's highest ratings came from the Cost Index, with an average score of 4.66. The average score for the United States in the Cost Index is 2.66.


World Bank Data
In the second table, we look at data from the World Bank comparing the two countries.
Table 2. Logistic Performance Index Scores (2018)
| | LPI Score | Customs | Infrastructure | Timeliness | Average |
| --- | --- | --- | --- | --- | --- |
| | | | | | |
| | | | | | |
Source: World Bank
In table 2, we can see the varying scores for customs, infrastructure, and timeliness.  The LPI, logistics performance index, the score is shown in this table too.
On a scale of 1 to 5, United States manufacturing averaged 3.95. In contrast,While Chinese manufacturing earned an average score of 3.62.
The US earned a higher score in each category. The customs score was used to show the efficiency of clearing customs. This includes timeliness and amount of paperwork necessary.
Timeliness refers to the timeliness of orders reaching their destination. They must do so by the projected time. It was also based on the transportation times to port.
The final category this table measured was the quality of infrastructure. This included the quality of trade and transport as well as the overall infrastructure, which included ports, roads, and railroads.


Ease Of Doing Business Score
The third table compares the EDB (ease of doing business) scores of the two countries.
Table 3. Ease of Doing Business (EDB), Minimum Wage and Labor Force Data (2020)
| | EDB Score | EDB Ranking | Avg. Minimum Wage per Hour (USD) | Total Labor Force (Million) |
| --- | --- | --- | --- | --- |
| | | | | |
| | | | | |
Source: Doing Business
In table 3, the EDB score ranges from 0 to 100. The higher numbers reflect an easier ability to do business with and in these nations.
On this scale, the US earned a score of 84. China trails slightly behind with a score of 77.9. These scores were used to determine the nation's EDB ranking. On the EDB ranking list, the United States is the 6th easiest country to do business in while China is the 31st.
This table also compares the laborforce's size and average minimum wage. As expected, the US's minimum wage was higher at 7.25 USD. China's average minimum wage was much less, 2.27 USD.
China's overall labor force of 780.84 million people is almost four times larger than the US labor force of roughly 166.08 million people. This showcases China's manufacturing capabilities. 


Pros and Cons of Manufacturing in the USA
Advantages of Manufacturing in the United States
American manufacturing offers your business an assortment of pros and cons. Yes, it is a domestic manufacturer. Though, US manufacturing could provide you with more benefits than you would think. The US is the largest importer and second-largest manufacturer behind China.
Let's take a look at some of the pros associated with US manufacturing.
The US is pro-business. Government policies boost US manufacturing to promote the economy. Consequently, a good portion of the United States' workforce makes a living in manufacturing.
Easy accessibility to inspection and oversight is available in the United States. The nation offers plenty of opportunities for quality control. Likewise, the rules and regulations within the nation encourage quality control.
The USA also provides your company with a quality workforce. The skills, technical competence, and education of the United States workforce is unparalleled. This workforce is capable of advanced manufacturing and logistics competence.
US manufacturing features customization. The nation's customization capabilities are an added benefit of US manufacturing. Moreover, these capabilities provide your business with customized molds and tooling for specialty products.
The United States' infrastructure could save your company money. It works to protect the workforce from hazard exposure. Similarly, US factories are often inspected and expected to uphold certain criteria.
Disadvantage of Manufacturing in the United States
There is one major con associated with manufacturing in the US. This is that manufacturing costs are high. This higher cost is the result of labor cost and cost of materials. Because the standard of living in the United States is multiple times higher, mostly everything that really matters for a business will cost more.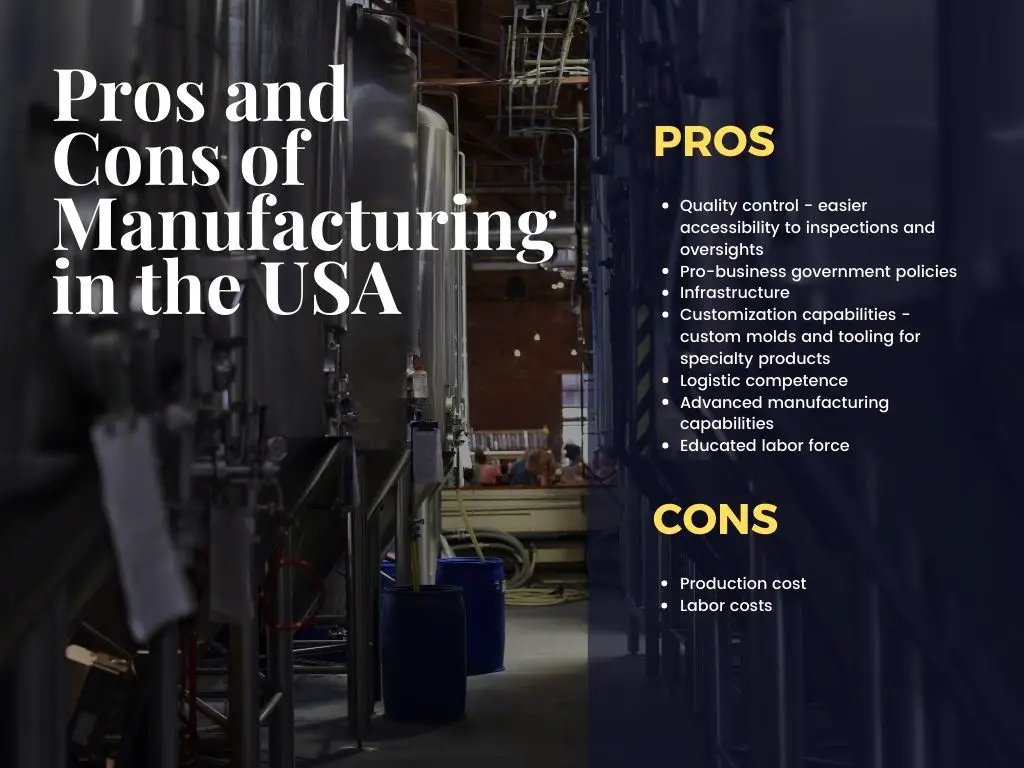 Pros and Cons of Manufacturing in China
Advantages of Manufacturing in China
Chinese manufacturing has one huge advantage over the US. This advantage is that the manufacturing cost is low. The labor force works for far less money than the US labor force.
According to the Brookings Institute, China controls 20 percent of the global manufacturing output. As a result, this output has earned China over two trillion dollars. This makes manufacturing capacity and outputs a pro for Chinese manufacturing.
The nation has an extensive railroad and shipping port network. China owns six out of the top ten shipping ports. Their logistics competence allows them to have extensive import and export infrastructure. Along with these qualities, its railway network is one of the fastest and largest in the world. On the other hand, while the United States' does have well-established infrastructure for moving products, it is older.
China has a low-cost labor force. They offer incredible manufacturing capacity and output. China offers a well-developed import and export infrastructure. 
Disadvantages of Manufacturing in China
When you manufacture in China, then bring your product to the US, you will face tariffs. This is especially true during the Trump administration. These tariffs are charged at different rates depending on the product imported.
There could also be a few issues with communication. This is, in large part, due to the language barrier. This language barrier can lead to miscommunication on product specifications and such.
While not a huge barrier, there is also a time difference between the two countries.
An outside manufacturer may face challenges due to the lack of social compliance. The workforce in China faces long working hours. These hours produce unfair compensation. The conditions worked result in health and safety hazards. This is a huge reason manufacturing in China is so inexpensive. The workforce for Chinese manufacturing is seldom offered basic benefits like health insurance. The business may also face backlash from other countries. This backlash stems from the belief that Chinese manufacturing thrives but does so on the back of forced labor and child sweatshops.
Utilizing an overseas manufacturer may cause issues with defective products. The return and exchange process would be much more difficult, as well.
Products manufactured in China often have a lower perceived value. Especially when brought to places like the United States to sell. This is due to the various quality issues that Chinese manufacturers have been guilty of. 
Intellectual property protection could also be a potential issue and China is known for not respecting intellectual property of other countries. There have been instances of Chinese manufacturing stealing proprietary designs from overseas clients and selling the product to customers themselves.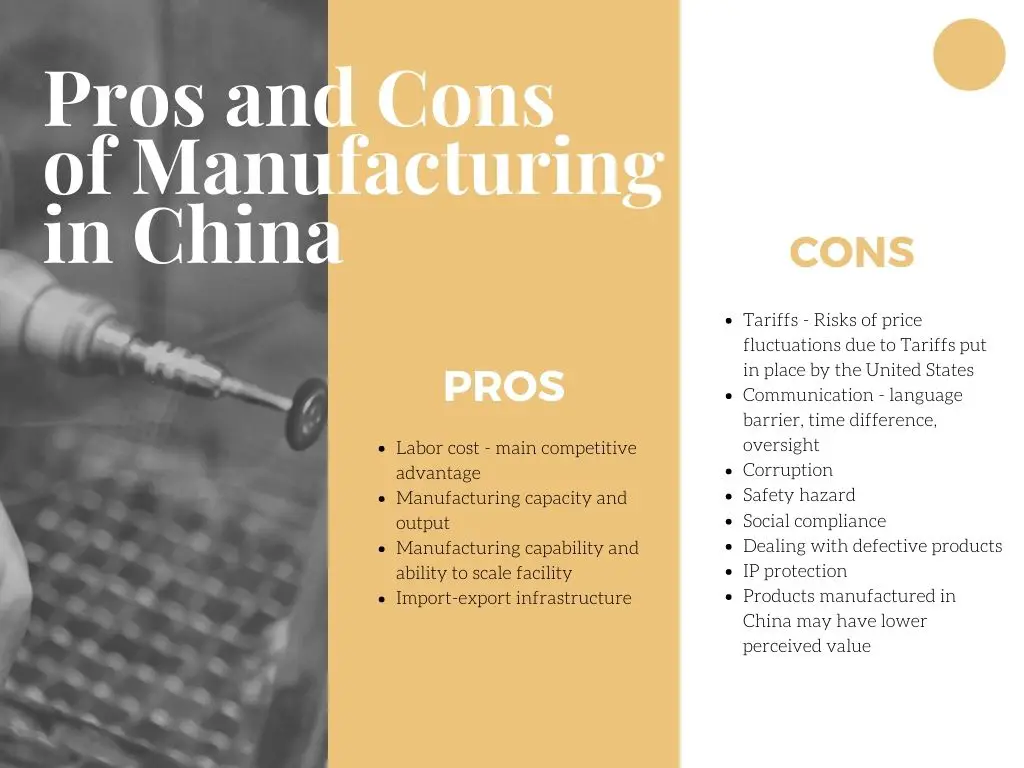 Comparing Aspects of Manufacturing in the USA vs. China
In terms of reducing costs associated with the production, China is the superior manufacturing option. But, the US is dominant in ease of production and the production of high-quality products.
In the table below, we grade each country according to selected categories when it comes to manufacturing.
Table 4. Comparing the USA vs. China in selected manufacturing categories
| Categories | The USA vs. China |
| --- | --- |
| | |
| | |
| | |
| | |
| | |
| Intellectual Property Protection | |
| | |
| | |
China wins over production costs and labor costs. China manufacturing also offers a larger workforce and manufacturing capacity.
In contrast, US manufacturing offers easier communication and faster shipping times. Manufacturing in the United States also offers quality assurance and intellectual product protection.
Though China has a far larger labor force, they offer that workforce an extremely low minimum wage. This plays a large role in the respect offered to the label. Another perk of manufacturing in the US is that the label 'Made in the USA' is widely respected
Statista's Made In Country Index (MICI) places the US as the eighth highest ranking label. Determining the placements was dependent on the survey questions. These questions were in relation to the world's respect in manufacturing. 
Conclusion
Determining where to manufacture your products is primarily based on your company's values. If those values are strongly lined up with money and cutting costs, then China is where you should manufacture your products.
Aside from costs, United States manufacturing offers an abundance of other benefits according to the data presented. There are a lot of benefits to manufacturing in the most economically developed nation in the world.
We hope this article has presented you with a good overview of the advantages and disadvantages of manufacturing between the two nations.