In order to sustain your business, you need to profit.  And as we know, profit is the total after taking your cost of doing business and subtracting it from your revenue.  What determines how much you profit is your margin.
Your margin, or profit margin, should be an important determinant in any business you start.  Given all things are equal, you should always choose to start a business with a higher margin rather than a lower one.  Businesses with higher margins allow you to accrue more profit per unit and also allow you a bigger margin of error in your business.
Here is a chart for the list of businesses with the highest margins as provided by Sageworks: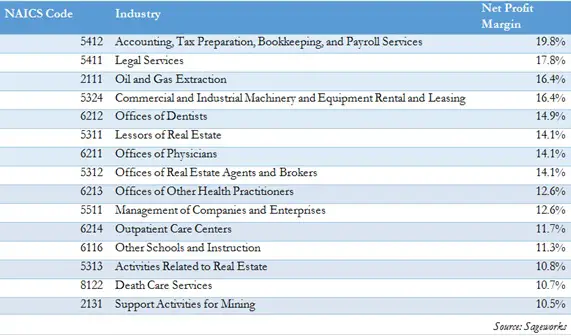 Accounting, tax services, payroll, and bookkeeping
Legal services
Oil and gas extraction
Commercial and industrial machinery and equipment rental and leasing
Office of dentists
Real estate lessors
Office of physicians
Office of real estate agents and brokers
Office of other health practitioners
Management of companies and enterprises
Outpatient care centers
Other schools and instructions
Activities related to real estate
Death care services
Support activities for mining
Then there are other industries on the opposite end of the spectrum with extremely low magins. For instance, construction has an extremely low profit margin (CFMA estimates between 1.4 to 3.5%). But these industries are worth getting into just because of the sheer revenue numbers.
However, this does not include emerging industries that many small business owners are getting into.  This includes software services, digital marketing businesses, and many internet businesses wherein there is less overhead and more overall profit.
Figuring Out the Margins of Your Potential Business
Before starting your business, it would be a wise idea to figure out your profit margins.  In order to figure out the profit margin ratio, please use this formula:

This is easy to figure out when you are running a business with few working parts.  When I ran my web design business, my total revenue was what I charge my customers and the total expenses was what I paid out to my designers plus any licensing fees incurred.  And of course net profit is total revenue minus total expenses.
With my businesses, I try to do something with a profit margin of at least 30 percent, but typically higher. Remember, the higher your margins are, the more wiggle room you had.