Google Ads is by far the biggest paid advertising platform. And with good reason. Ads convert very well because it matches the ads with user intent very well. It is an incredibly effective way to reach potential customers and increase website traffic.
But the platform can be extremely daunting also as there are a plethora of settings you have to deal with. While the platform has made it very easy to create ads in just minutes, those new to running ads on it will run into some problems. And not everyone will have an account rep they can reach out to immediately solve an issue.
One of the biggest problems people new to Google Ads run into is that even though the ads have been set to show only in certain areas, the ads will still get a lot of clicks from people outside the area—especially if they are cheap clicks. This can lead to a lot of money being wasted on clicks from people who aren't in the target area.
The number one reason why your Google ads are shown to people outside of your targeted locations is because of this annoying default setting inside of Google ads.
The Google Ads Setting That Shows Your Ads to People Outside Your Targeted Locations
When you set campaign targeted locations, the default option is set to: Presence or interest: People in, regularly in, or who've shown interest in your targeted locations. This is Google's recommended setting.
The operative word above is interest. That means, if Google thinks they have shown some type of interest in your targeted location (like a previous Google search or something), Google will show the ad to them.
However, if you are a local business that wants to target the area that you operate in, this "recommended" setting will lead to a lot of clicks from outside the area.
How to Fix The Issue of Your Google Ads Shown To People Outside your Selected Locations
So what you should do is change this default setting to Presence: People in or regularly in your targeted locations.
This will make it so that your Google ads will only show to people who are regularly in the areas that you target.
To check if this is the case with your campaign, do the following:
Login into your Google Ads account > Select the campaign > on the left click on Settings > Under locations, select Advanced locations.
Once there, you should see something like this. Make sure it is on the setting with the red arrow pointing at it.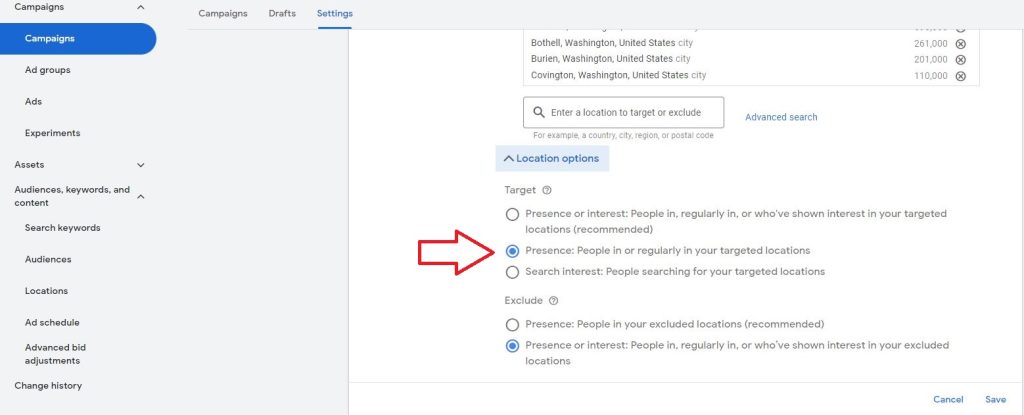 Once you select Presence, you should stop getting traffic from other locations.