If you are buying an existing authority/niche website or blog from someone, it will save you a lot of work if you start from zero. Sure, it requires more monetary investment upfront but you get a website that is already earning money and receiving traffic.
Building a website from the ground up is great and all, but the first year is usually the hardest because you barely receive any visitors and don't really earn anything. So it just seems like you are pouring time and money into a bottomless pit.
While buying existing authority or niche sites can be profitable, that is not always the case. Like buying any other business, you need to do your due diligence and analyze how much money you will realistically earn with it.
I have been involved in numerous transactions as both a buyer and seller. Thus, I have created an authority and niche site buying guide so that you can maximize your chance of profit and minimize your chances of being screwed over.
Verifying Revenue/Income
The first thing you should do with all sites you want to buy is verify the claimed revenue.
Pictures aren't enough. You need more.
Don't be afraid to ask for access to their ad or affiliate account(s) to verify revenue. Some will do this, especially if they only have one site. But if that is not possible, have them do a video walkthrough of their revenue streams. Pictures are much easier to fabricate than screen captures.
It is also important to verify that the numbers they are showing belong to the site you are buying. Many site owners will be earning from multiple sites.
Many ad and affiliate networks will allow their users to assign role-based access so that potential buyers can go in and see revenue numbers without being able to change anything.
Also, if the site uses an ad or affiliate network that you are not apart of but want to join, be sure to ask them to ask their account manager to transfer the account over to you or create a new account for you.
Verifying Traffic
Again, don't rely on just screenshots or pictures. Ask them for read/view access to Google Analytics and Google Search Console.
Go in there and do a deep dive on where the traffic is coming from. Additionally, go to Google Search Console to see the link profile and see if there have been any automated or manual penalties applied against the site.
This is what you want to see in Google Search Console.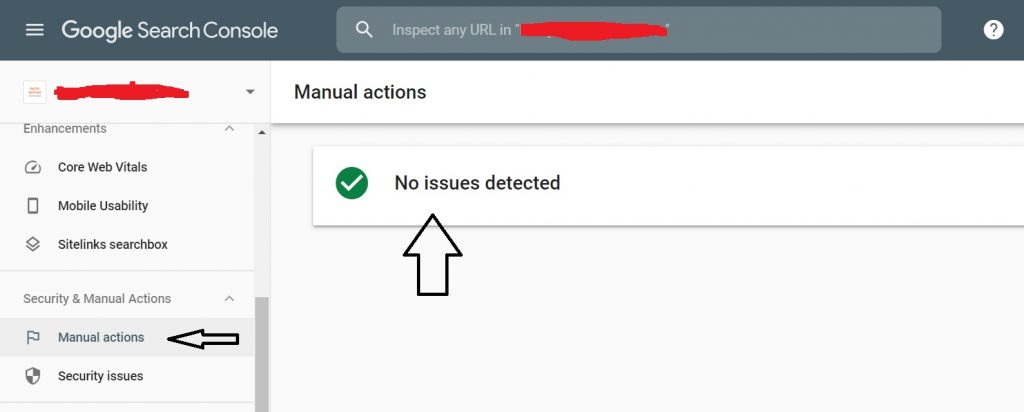 Google rarely takes manual actions against a site. If it does, that means the site has an extremely toxic backlink profile or did some mischievous stuff to garner traffic.
Manual actions are not usually taken for gray hat tactics that is slightly outside their guidelines. Manual actions are taken when there is perverse and egregious violations of their guidelines.
Although manual actions can be solved, they are a headache to solve and will involve some time commitment. If the manual actions have been resolved by the site owner and is no longer relevant to the site's rankings, then that is less worrisome.
If the seller isn't willing to grant you access to their Google Analytics and Google Search Console account for the specific site in question, end the negotiations right there and then. That is a huge flag that can't be overlooked.
Doing SWOT Analysis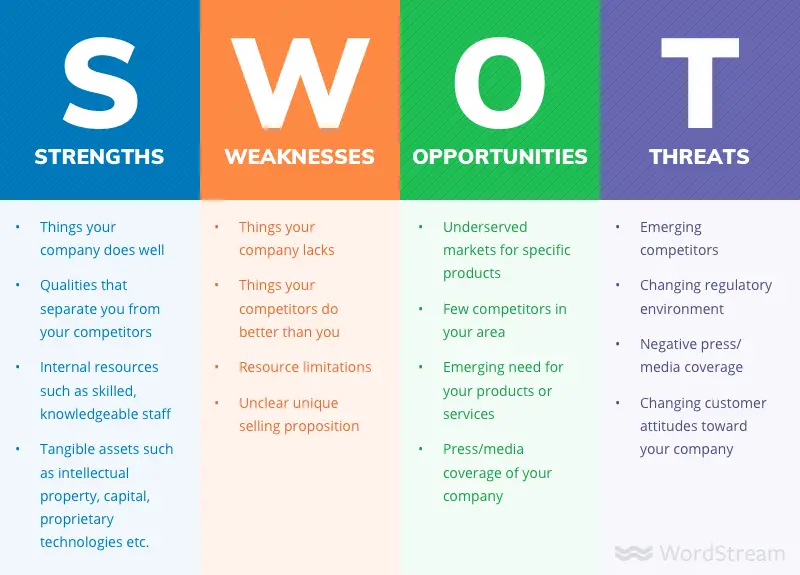 Before buying any site, you need to do a deep SWOT analysis of the site. What's SWOT analysis? You are looking at the site's Strengths, Weaknesses, Opportunities, and Threats.
Below, I will give examples of each.
Strengths: In terms of strength, you are looking at what the website excels at.
Ex) The website has a strong backlink profile that looks natural and from highly authoritative sources.
This is a strength because Google believes that the site has authority and trust.
Ex) The site has a long history of consistent rankings
A site with a long history with a consistent upward trend is good because that means it has passed each one of Google's core updates and thus has a high likelihood of continuing that trend.
Weaknesses: Identify any existing weaknesses the site has currently.
Ex) Most of the traffic lands on 10% of pages.
This is a weakness because any drop in ranking of those pages will reduce in a huge drop in traffic. You ideally want the site's traffic to be somewhat evenly disbursed.
Every site will have a huge chunk of its traffic coming from a few pages—however, you must protect the downside by knowing that other pages are receiving a fair amount of traffic too.
Ex) A slow site.
Although a slow site is not a direct Google ranking factor, it does create for a less-than-pleasant user experience. A faster site will increase visitor retention and thereby increase revenue.
Ex) Most traffic is from developing countries.
It is no secret that United States traffic gets the most revenue. And conversely, traffic from developing countries generate much less revenue. If the majority of traffic is coming from the latter, it is hard to make decent money without huge volumes of traffic.
Opportunities
Opportunities are what you see as underutilized or under-optimized facets of the site. This analysis is really important because it analyzes how much time and money you need to invest to make a good return-on-investment.
Ex) The site is not using display ads in congruence with affiliate links
Display ads are a guaranteed way to earn revenue for a site with a decent amount of traffic. If the site isn't utilizing display ads for whatever reason, that is an immediate opportunity to increase the value of the site.
Threats
Threats are foreseeable pitfalls of the site that can decrease traffic and revenue in the future.
Ex) Young website so thus can be susceptible to future Google algo updates
This is a threat because many young websites do not have a strong history of growth and therefore can be affected by future Google algo updates.
To find out more about how to conduct a proper SWOT analysis, visit this Wordstream article.
How Much To Pay For a Website
For content sites and blogs, the usual multiple used is 2-3x yearly profit, depending on several factors. The yearly profit is usually calculated by taking the profit of the last 3-6 months, and then annualizing it.
So if the site averages $300 a month in profit for the last three months, expect to pay anywhere between $7,200 to $10,800 for the site.
But to be honest, I've never paid 3x for a site or gotten 3x for a site. The most I've paid is 2.5x and the sites I've sold were around that multiple also. Aiming for a multiple of 2.5x and under is a good rule.
Factors That Affect The Price of a Website
Here are the factors that affects the price (or multiple) of the site.
Backlink profile – If it has a strong and natural backlink profile from many authoritative sources, the seller can command a price closer to $10,800. If the backlink profile is spammy, you can command a price closer to the $7,200 mark.
2. Domain metrics – Domain metrics are really important. It tells you how authoritative the site is in terms of Google. Domain metrics are usually gathered from Ahrefs, Moz, or SEM Rush. The higher the domain authority is, the higher the multiple.
3. Content – How good the content is matters. If it is superb content, then they can command a higher asking price.
If the content is of lower quality, you can command a lower price. Sites with lower quality content are almost always hit by Google algo updates.
4. Traffic trends – If the site has a long history of consistent traffic growth, it will command a higher price. If the site has recently been hit by a Google algo update, you can command a higher price.
5. Traffic sources – The crux of the traffic sources matter.
Organic traffic from search engines is the cream of the crop in terms of ROI.
Paid traffic (native advertising, Google ads, etc), if the system and ad networks are being sold along with the site, will also command a high multiple.
Social traffic doesn't convert as well and also commands a lower multiple.
6. Revenue – If the site's revenue is inconsistent or has dropped off recently, you can negotiate for a lower price.
7. Urgency – If the seller is urgently needing money and a quick sale, you can negotiate for a lower price.
8. Website broker or direct sale – If you are buying through a website broker, the website will usually be listed at a higher price because the seller has to make up for the commission they have to give the broker. Commission rates are usually between 10-15% of the final sale price.
If you are buying directly, the price will often be cheaper. Facebook Groups such as Flipping Websites or Niche Website Flippers are great sources to get in direct contact with sellers. But beware and heed our warning about buying websites directly on Facebook.
Funding The Transaction Safely
Once you and the seller have agreed to the price, it is time to fund the transaction. When buying a site, you will need an escrow to hold the money and act as an intermediary for the transaction.
By far the most popular escrow for website purchases is Escrow.com. Most website brokers use Escrow.com.
When transacting through Escrow.com directly (no broker), they will most likely ask the seller for an invoice or a contract. So go ahead and get that part over with before setting up the transaction on their site.
As far as fees, their fee chart is below and you can choose for the seller to pay it, the buyer to pay it, or to split the cost 50/50.
Escrow.com Fee Chart
| Transaction Amount (Merchandise + Shipping) | Standard | Concierge | Payment Processing Fee |
| --- | --- | --- | --- |
| $0-$5,000 | 3.25% ($10.00 minimum) | 6.5% ($100.00 minimum) | Standard or Concierge fee + 3.05% |
| $5,000.01-$25,000 | $162.50 + 0.26% of amount over $5000 | $325 + 0.52% of amount over $5000 | Not available |
| $25,000.01 + | 0.89% | 1.78% | Not available |
Escrow.com fee chart
Alternatives to Escrow.com
While Escrow.com is the most popular escrow service for buying and selling online businesses, the seller or you may opt for a different escrow. Or maybe Escrow.com is not available where you or the seller live. If this is the case, here are some Escrow.com alternatives for you try:
Sedo – This company is a domain name registrar that also has a legitimate escrow service for website sales. Sedo charge a 3% escrow fee for transactions reached outside of Sedo and 15% for transactions conducted in their marketplace.
Epik – Epik is another domain name registrar that recently opened up their escrow services a few years ago. Their standard escrow fee is 1.5% of the transaction amount with wire transfer payment, 2.5% of the transaction amount if paying with cryptocurrency, and 5% of the transaction amount with credit card payment.
Payoneer – It was also a popular escrow service for international transactions but they ended their escrow service in 2018. But they do offer payment options that many users like.
I've done a small transaction with Payoneer for a site that was $200. What I did was send the first half as a down payment and then send the second half once the domain name and website are transferred.
Step-by-Step Process of Transferring The Domain and Site to You After Purchase
So now that you have purchased the site and funded the transaction through an escrow service, it is time to do the actual legwork of getting the site into your posession.
Get login credentials to the site, server, and any social media accounts from the seller.
Go into the server (usually Cpanel) and create a full backup of the site.
Have your web host migrate the site over to you by restoring the backup to your server. We have a list of web hosts that offer free migration if you are trying to find one.
After successful migration, verify that the backup works on your server. Since you do not have the domain name yet, you will not be able to view the site on your server simply by typing in the domain name. Instead, you can use the online tool hosts.cx or change your hosts file to view the copy of the site that's on your server.
After verifying that everything is in working order, have your seller unlock the domain and transfer it over to the domain registrar of your choice. Ideally, you want to use the same domain registrar as them as a domain push is instantaneous. However, if it is not the same domain registrar, the domain transfer will take several days to complete.
Once you have received the domain name it is pointed to your server, verify once again that everything is in working order. You will have the number of days specified in your escrow transaction to inspect everything.
If everything looks good, release the escrow payment, and you are done!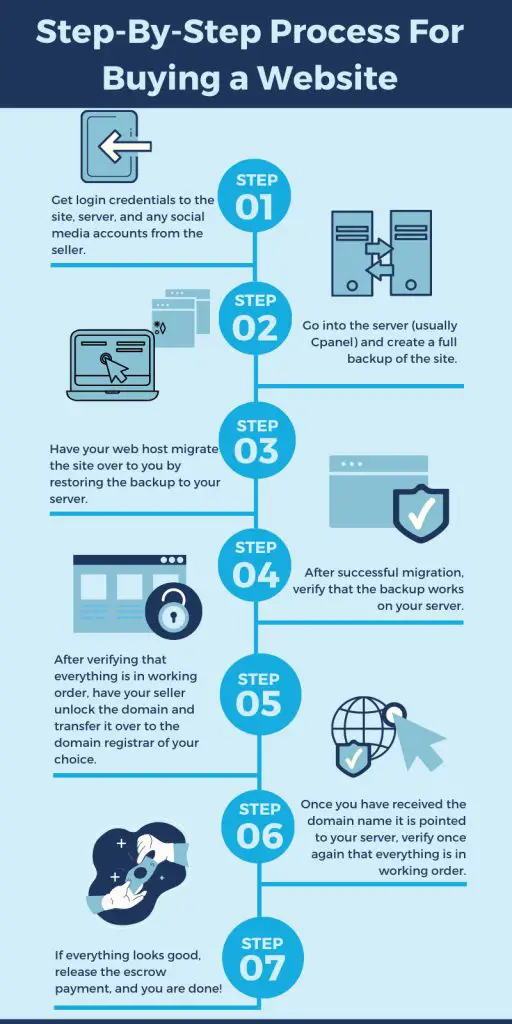 Additional Tips
Also, it is customary for the seller to provide 1-4 weeks of support after the sale to get you up-to-speed on the inner workings of the site and answer any questions you may have. So be sure to stipulate that in the sale!
Also, instead of starting a new Analytics or Google Search console account for the site, tell the seller to make you an administrator and then remove them once the transaction is complete. You should also do this with any social media accounts that comes with the site.
It is important to change all the passwords to everything that is transferred immediately as soon as you receive it.
I hope this guide has been useful for you in buying a website. If you have any questions, please leave it in the comments below and I'll try to get to them.