Building niche sites, authority sites, or blogs have grown quite a bit in the last few years. It has proven a great way to generate passive income. But don't let that fool you, building niche/authority sites take a lot of time and effort. It's an online business—but it is still a business. But once you do get it going, it is one of the best ways to generate passive income.
If you are someone with some discretionary income, you may opt to buy a site that has already been built instead of building one from the ground up. That's where online business brokers come in.
Since I sold my last website in February of 2017, the online business brokerage sector has grown tremendously. I had very few options for myself when I tried to sell my website. But now, there is plenty of healthy competition. 
We have gathered a list of 9 places where you can buy an authority or niche site. Some sites deal exclusively with high-end listings while others are a trove of sites listed for well under six figures.
And while all these places sell content sites, they do also sell other types of online businesses, such as e-commerce or Amazon FBA.
Difference Between Authority and Niche Sites
Authority and niche websites are often used interchangeably. And they often are. The line gets blurry when it comes to where a niche site ends and an authority site starts. As such, there are many definitions of what a niche site or an authority site is.
But here are a few things that will differentiate between a niche site and an authority site:
| | |
| --- | --- |
| Niche Site | Authority Site |
| Often (but not always) a smaller site (perhaps less than 50 posts/pages) | Larger site (100 to thousands of posts) |
| Covers a small niche of a wider market (massage guns, dog collars, canon camera lens) | Covers a wide market (fitness, yoga, recovery tools, photography, canon cameras, etc) |
| Site target a topic based on a set of keywords (eg keywords surrounding massage guns) | Site is designed to target a set of like-minded individuals (health-conscious people) |
And depending on who you ask, there are many more distinctions between the two. And what you choose to invest in is up to you. A niche site can certainly turn into an authority site and an authority site can dominate a niche. So whichever way you go, you are definitely not pigeon-holed when you buy one or the other.
Where Buy Authority or Niche Sites
We have gathered a list of 9 best places to buy an authority or niche site. 
Motion Invest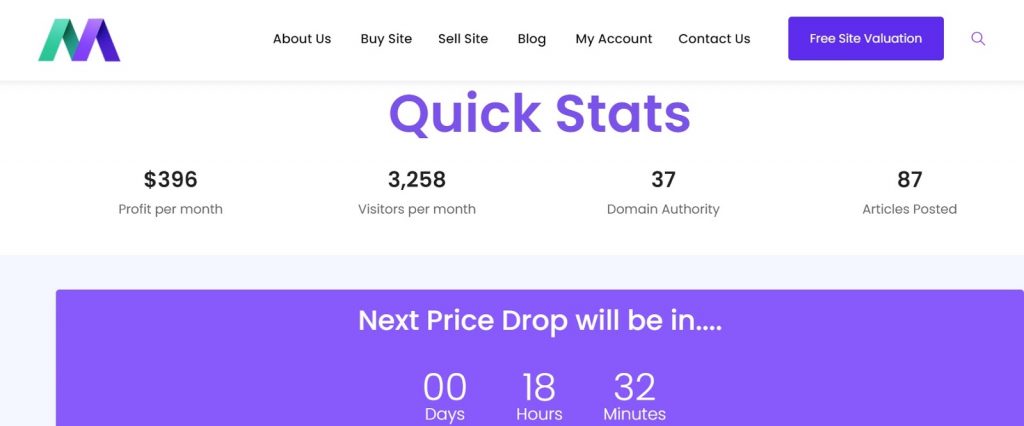 Motion Invest is a newer broker and Spencer Hawes of Niche Pursuits is a co-founder. Motion Invest is both a broker and a buyer. They offer deals directly to people that want to sell their site on their platform. But the seller wants to list it on the marketplace, then you as a buyer will get access to the site.
All the sites have been vetted for traffic and revenue. The auction also includes an in-depth SEO report that includes a backlink analysis and keyword analysis. The marketplace uses a Dutch auction method, which means the price is lowered after a set amount of days until it gets a bid or hits the reserve price.
Investors Club

Investors Club is a site that popped onto the scene around the same time as Motion Invest. The site lists Andrej Ilisin as the CEO. Andrej has been in the niche/authority site game for a while. Andrej bought RankXL in 2019, an SEO site I frequented in the past.
All members who wish to buy are required to provide proof of funds of at least $10,000. If you do not have proof of funds, the information you are allowed to view in the marketplace will be extremely limited
For buyers, there are two tiers. You can get a free membership or upgrade to the VIP tier which is $59/mo or $699 for a lifetime membership. The VIP tier gets you access to instant listings, free detailed due diligence reports, and first access to new products and services. 
If you opt for a free account, detailed reports on each website you are interested in buying is $27.
Each listing has Investors Club's own deal flow (SWOT) analysis. They identify the website's strengths, weaknesses, opportunities, and threats.
Most of the sites for sale are in the five or six-figure range. So if you plan on spending less than $10,000 to acquire a site, you probably won't find sites like that here.
Digital Exits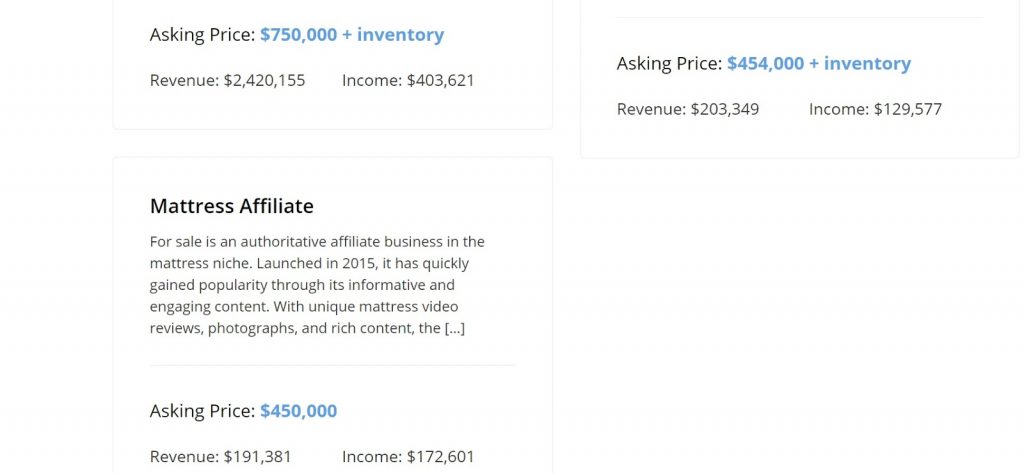 Digital Exits is a broker that you should think about if you have serious cash laying around. Most of the sites for sale on their platform have a listed price of six figures and beyond. So if you are trying to find something under six figures, Digital Exits probably isn't for you. 
Additionally, although content sites are available for sale on their platform, the crux of the sites they sell seems to be in the e-commerce space, including Amazon FBA.
Empire Flippers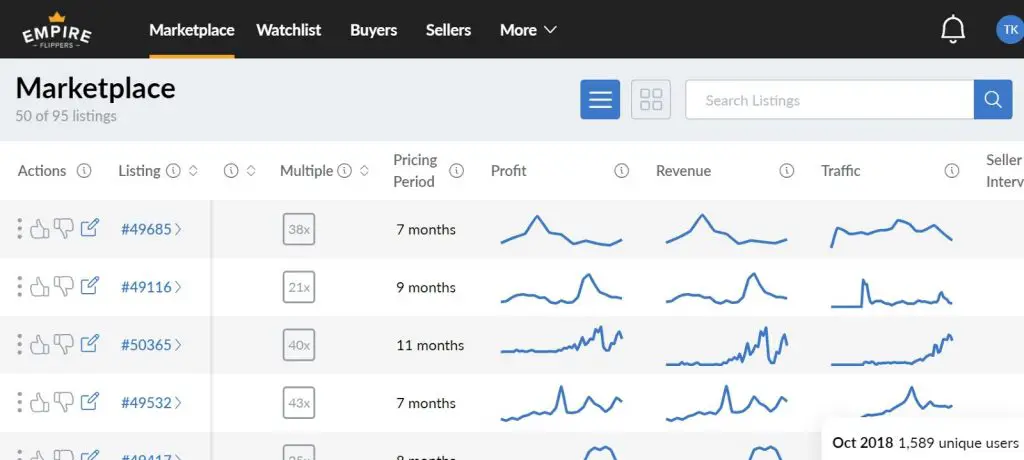 If you are into online business for a while, it is not possible you haven't heard the name of Empire Flippers. It is the top marketplace for buying and selling a business and is one of the world's most trusted platforms.
Empire Flippers have sold over $100 million worth of online businesses from all around the globe.
Although they started out listing small content sites, many of their listings now are in the six-figure range and up also. As of right now, they have 95 active listings and the lowest listing they have is an affiliate site listed for $34,076. 
Although they have a lot of FBA sites for sale, they also have a healthy mix of content sites for sale. 
They also sometimes have listings where they bunch of multiple websites on a single listing. So if you are interested in buying multiple websites with one transaction, Empire Flippers may be just for you. 
FE International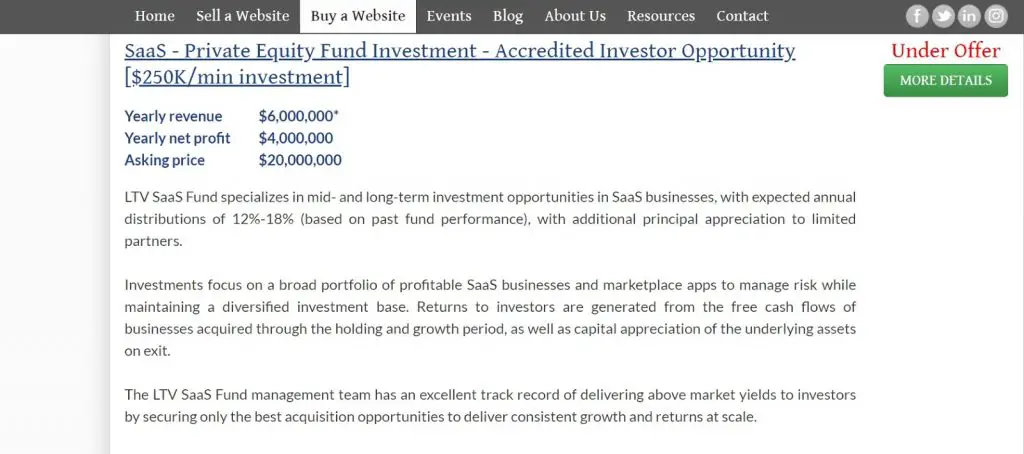 FE International was founded in 2010 and has a reputable network of industry known investors who are eager to get their hands on a new business.
The platform primarily deals in e-commerce, SaaS, and content-related business.

I sold my second website here for short of $50,000. And that's about the lowest-priced listing you will find on there. They primarily deal in listings in the six-to-seven figure range. 
Their UI is a bit dated but rest assured, they run like a well-oiled machine—at least from my experience dealing with them 3 years ago. Things might have changed.
Flippa

Flippa was founded by Mark Harbottle and Matt Mickiewicz in June 2009. By 2015, it had done over $140 million in business. Half of this revenue was from selling websites.
I sold my first website on Flippa. 
If you are not too experienced with authority or niche sites, I do not suggest Flippa as your first stop for acquiring a site. There really isn't a good way to say this—but there is a lot of sh*t listings in their marketplace. 
But every once in a while, you do find a diamond in the rough. 
Although there are a lot of shit listings, they do have a fair amount of listings that are in the four-to-five figure range. They also have by far the largest inventory of active listings. As it sits right now, they have 5,623 live listings. 
Quiet Light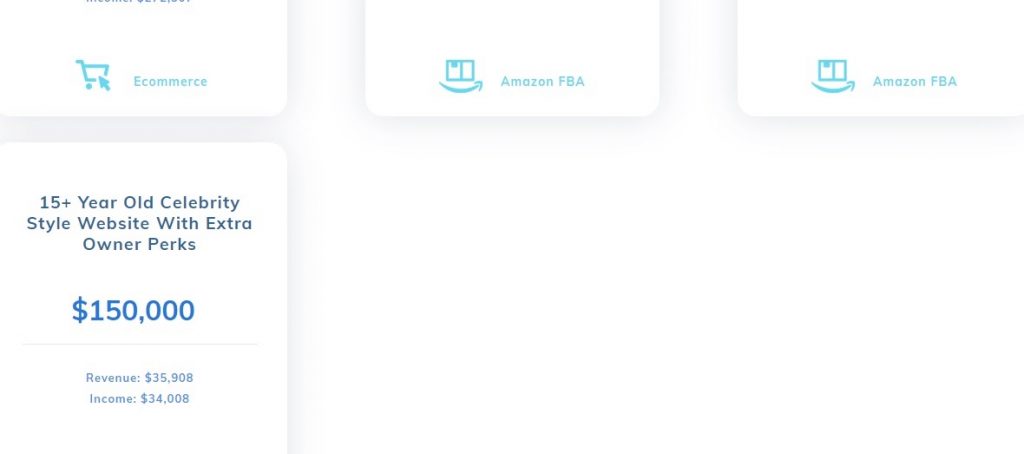 To date, Quiet Light has sold over 600 businesses and generated over $300,000,000 in transaction value.
Quiet Light also brokers a lot of listings in the six-to-seven figure range. As such, it might not be a good fit for those with limited funds. 
Blogs For Sale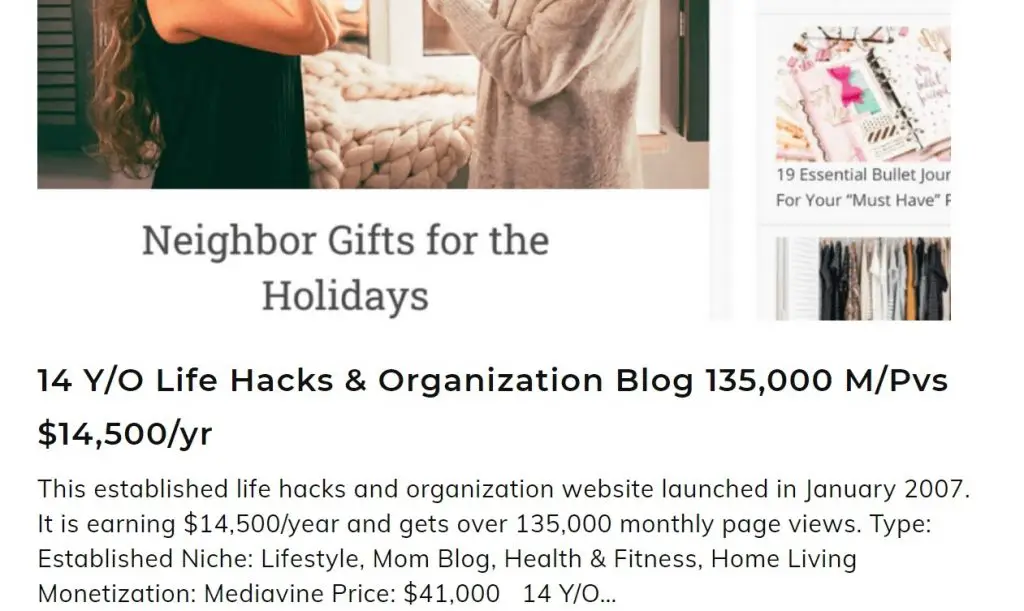 Blogs For Sale describes itself as a boutique brokerage and marketplace for buying quality established blogs and online businesses. It was founded by entrepreneur Chelsea Clarke. She is also the founder of HerPaperRoute, a site to educate and inspire other women to dive into business.
Looking at their current listings, many of the niches are female-dominated. However, I expect that to change as the brokerage grows.
Because they are a smaller brand, many of the listings on their site are can be bought for well under six figures. There is even a site being listed for sale for $999 right now.
Facebook
Facebook Groups is another place you can look to find sites for sale. There are many groups that allow people to buy and sell sites. Some active groups you can join include Flipping Websites and Niche Website Flippers.
I myself have acquired three small sites via these Facebook groups within a two-week span. 
Buying without a broker comes with increased risks and work. There are no doubt scammers out there that will try to pull a fast one on buyers. Additionally, you will have to do all the due diligence yourself. But if you go with a broker, they will do most of the heavy lifting for you in terms of verifying revenue/traffic and digging deep into the site for red flags.
Best Website Broker For Buying Sites Under $10,000
Some of these companies above have been established for a while and so now have a minimum revenue requirement in order to be listed in their marketplace. Thus, if you have a limited budget, they might not be the best choice.
However, if you are looking for the best broker to buy sites under $10,000, then your best bet would be to look at Blogs For Sale and Motion Invest.
Flippa is also good but as I said above, it involves a lot of work sifting through the trash.
Best Website Broker for Buying Sites Under $50,000
Now, if you have a little more money to buy a site, and want to buy a site between $10,000 to $50,000 then Empire Flippers and Investors Club would be good bets. Investors Club has a fair amount of listings in the low-to-mid five-figure range. Empire Flippers also has some but not quite as many as they used to. 
Best Website Broker for Buying Amazon FBA Businesses
While Amazon FBA is not really an authority or niche site, many Amazon FBA sellers have successfully tied their authority or niche site with their Amazon listings. Doing this would invariably increase earnings and diversify income streams.
Empire Flippers no doubt has a strong presence with Amazon FBA businesses. If you look at their listings, a large chunk of them are Amazon FBA businesses. 
While other brokerages do have some Amazon FBA businesses for sale, they tend to concentrate more on traditional e-commerce.