Whether your employees are freelancers or in-house, you need a project management tool to be able to work well and efficiently. And in terms of project management, Monday is one of the leading software used by teams. The platform provides tools for managing tasks, sharing files, and providing transparency for all team members.
The Israeli company behind Wix.com started developing Monday back in 2010, but the project left Wix in 2012 to become a separate entity. Today Monday provides project management services for over 100,000 organizations across 200 vertical markets.
Monday is used by organizations that need a centralized online platform for employees to work together. There are 4 different pricing options available: Basic, Standard, Pro, and Enterprise. This flexibility allows companies of all sizes to choose a plan that's suitable for their demands. Consequently, Monday is used by large organizations such as Wix, Pioneer Studios, Loginno, Discover Inc., and Noviqu. It's also utilized by start-ups that only have a handful of employees.
Here are some of the top Monday features:
In-app automation: Monday allows tasks to be automated, which is great for teams where there are a lot of repetitive tasks. The type of apps Monday can be connected with include Dropbox, Outlook, Gmail, MailChimp, and much more.
Good user interface: The modern and attractive user interface of Monday allows new users to start using the platform without a steep learning curve. Tasks are visually laid out and can be organized accordingly. Therefore, project managers can have an overview of how a project is unfolding by briefly looking at the user interface.

Transparency and accountability: User profiles created on Monday can have the ability to assign tasks. Team members can see who is responsible for what tasks, which creates a sense of accountability.
Monday's Drawback
The drawbacks of Monday are that it's not intuitive to use and creates more complexity than is required. You might find yourself consistently performing maintenance tasks to overcome the shortcomings of Monday than you want to spend time doing. Also, the setup time to get started on a new Monday project takes longer than other project management platforms. With that thought in mind, this article explores good project management software alternatives to Monday.
Alternative Project Management Tools to Monday
Before we go into each of the alternatives, here is a list of them and their entry-level pricing.
| Project Management Tool | Entry Level Pricing |
| --- | --- |
| Trello | starts at $9.99/user/mo |
| Asana | starts at $6.25/user/mo |
| Jira | as low as $5/user/mo |
| Wrike | starts at $9.80/user/mo |
| ClickUp | as low as $5/user/mo |
Trello is an intuitive desktop and mobile-based platform that uses cards to organize projects. Each card can be assigned to a team member and then moved to other lists or stages of the project when completed. It's an intuitive system that is easy to use and allows project managers to quickly hand out tasks. Cards can be highly detailed by adding comments, task descriptions, and file attachments.
Trello offers a free trial to see if the platform is a good choice for your project. The entry-level price is just $9.99 per user per month. The competitive price means it's a great option for new businesses that need an affordable solution.
Pros
 Quick and detailed cards can be used to organize tasks, which provide easy organization at a glance.
 Cards can be tagged, labeled, and commented on. These features increase the complexity of a project when required.
The mobile app provides an equally intuitive work environment.
The recent history feature enables users to quickly see what they have missed since the last log in.
Cons
The 10MB file upload limit means it's best suited for small scale projects that do not include large videos.
Lack of templates increases the amount of repetition.
In conclusion, Trello is an excellent Monday alternative that provides the simplicity to get started right away. You'll love the mixture of the card layout and details that can be added to each card. It's the right choice if you value simplicity and don't need to upload huge files.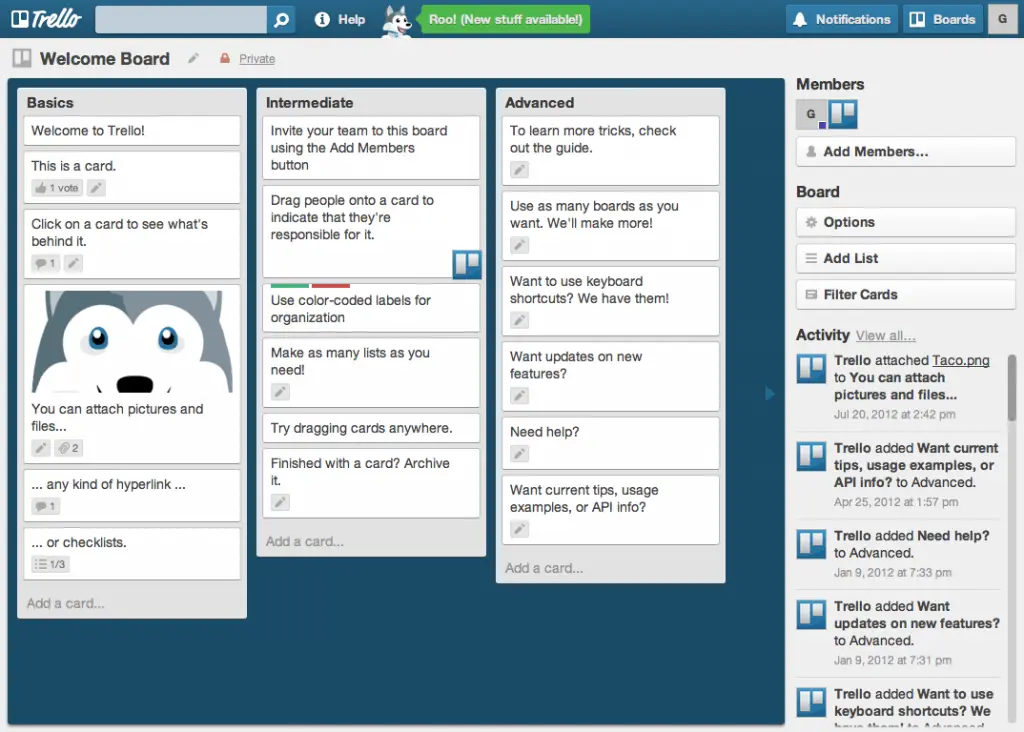 This is the main project management tool we use for this site. 
Asana's entry-level pricing starts at $6.25 per user per month. Their timeline feature is the unique selling point that enables project participants to visualize ongoing tasks and deadlines in a chronological manner.
Asana is excellent for ongoing work because its platform allows you to add tasks intuitively, whereas other platforms are better suited for projects with a firm end date. The open-ended nature of Asna gives project managers more creative room to set up a project in a way that meets their needs.
The features available on Asana provide a lot of depth to customize each task. Documents can be linked or uploaded, users can be assigned, due dates or recurring dates can be added, and comments or tags can be written. The user interface has a clean look that caters to users that don't like cluttered or busy UIs.
Pros
 Offers the benefits of most other project management platforms.
Collaboration with other team members is easy and allows projects to be run smoothly.
Interface is easy to use and understand.
Cons
Communication functionality is not ideal for complicated and bigger projects.
No pre-built templates available.
Customization options are limited.
To summarize, Asana is a superb choice for smaller projects with no deadline in sight. It's best used for recurring tasks by providing a visual timeline to organize the project. Furthermore, you'll enjoy Asana's clean user interface that's free from clutter.
Asana also got a lot of the advantages that other project management platforms provide.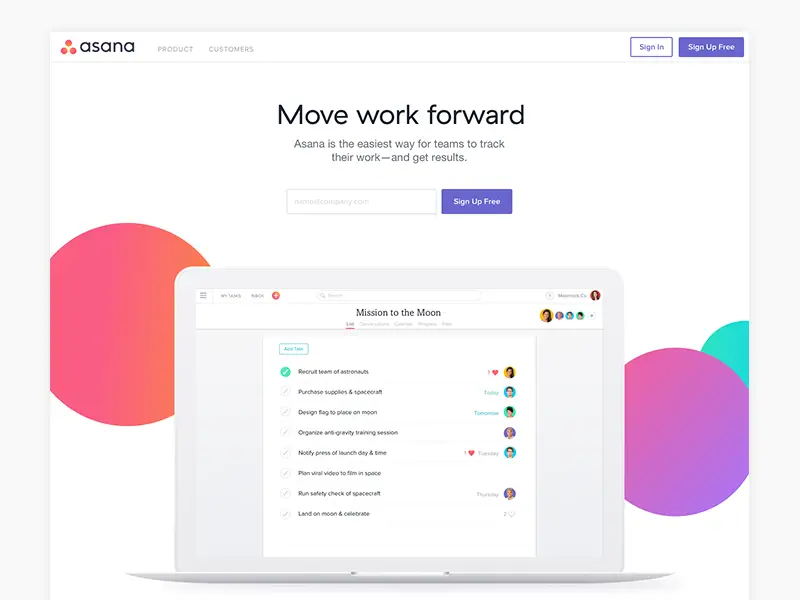 Over 65,000 teams are using Jira across the globe. Atlassian developed Jira and released the product back in 2002. They offer project management solutions for non-technical users and software developers. Therefore, Jira can be as simple or complicated as you need it to be. Since they have been around for so long, there is a healthy ecosystem supporting the platform. 
Jira is used by all types of businesses and teams because of how much flexibility is available in their platform. Jira's ticketing system enables team members to collaborate and fix issues. Each team member can build and create their own customizable reports. Their platform pricing plan starts at just $5 per month per user, which is among the lowest in this comparison guide. However, this does not include add-ons, whic add additional functionality to the software but also adds cost.
Pros
Collaboration with team members are straightforward and allows for problems to be quickly overcome.
Most advanced management software with excellent tracking features.
You can choose the complexity of the system and IU, which means beginners can use Jira too.
Cons
Some simple features are expensive because they are additional add-ons
Branding customization could be improved.
There is a learning curve that's steeper than alternatives on this list.
Overall, Jira is the right choice if you are looking for the flexibility to increase complexity as you progress with your project. The system takes a bit of getting used to, but the intuitive ticketing systems will come in handy when problems arise.
Jira's collaboration tools allow for straightforward communication with other board users. Team members can work remotely with Jira without feeling like they are at a huge communication disadvantage.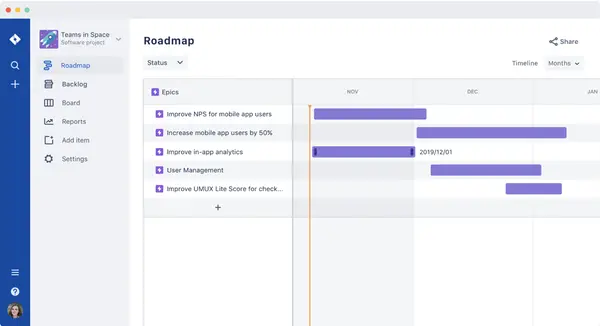 This online project management platform offers excellent collaboration, but it's one of the more expensive options. The starting price is just $9.80 per user per month, but the costs can swell once your team grows and starts adding extra features to Wrike.
Ease of use and intuitive project management features are the key benefits of Wrike. It's also suitable for ongoing projects as well as ones with a strict deadline. The visualized schedules of the Gantt chart are perfect for getting a quick overview of a project at a glance. Furthermore, the customization options are excellent, since you can create workflows to meet your requirements.
Pros
Easy to create tasks and customize them to meet your requirements.
Can combine features from other applications.
User interface is clean and appealing. You can also rearrange the dashboard to suit your preferences.
Cons
Scheduling features are buggy and don't provide enough flexibility.
Takes a while to learn how to use some features.


In conclusion, Wrike is a strong competitor that provides a lot of customization capability to create tasks. 
The clean user interface and good customization features are also reasons why you might want to give Wrike a try. It could be a worthwhile alternative to Monday for your team.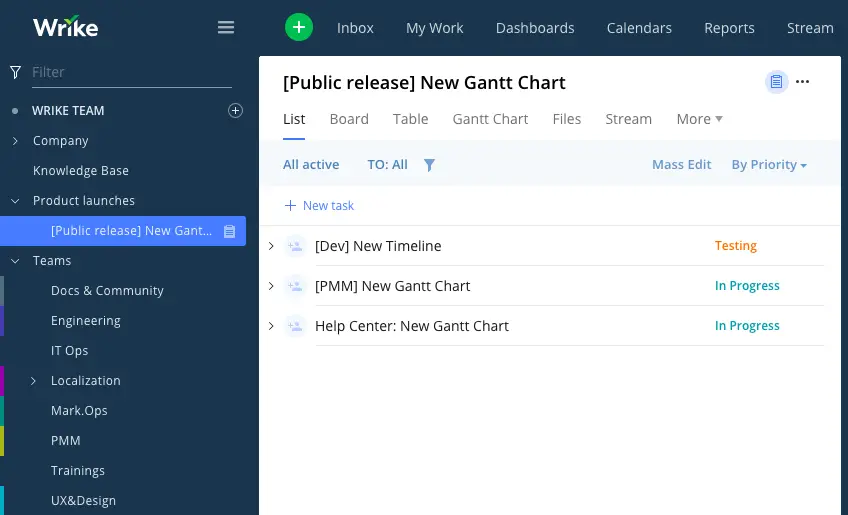 ClickUp starts at just $5 per month per user and makes use of Gantt charts. This project management platform hits the sweet spot between complexity and ease of use. To start you can create basic tasks for the users to follow. Once more complexity is required tasks can be branched out in an intuitive structure.
ClickUp is a cloud-based tool that instantly updates changes for all team users. Also, the advanced communication features make it easy for team members to talk about how a project should be executed every step of the way. The status of tasks can be marked, which allows everyone to know the progress of the project.
Pros
Tasks can start out simple, but increase in complexity as required.
Offers more features than most other platforms.
Extensive customization features allow you to set up the platform in the way that works best for your project.
Cons
The app colors are too neutral, which means different sections of the user interface are not clearly distinguished.
There is no ability to create user groups, subfolders or subtasks.


To summarize, ClickUp offers teams the opportunity to grow in complexity when required. You can start off small and use the same platform to execute complicated projects. Furthermore, the platform has a simple user interface that does not take long to learn. However, ClickUp could use a stylistic upgrade.
Conclusion
The best alternative to Monday depends on your project requirements and preferences. For simplicity, you can use the intuitive card-based system of Trello. However, if you are after complexity, then choose Wrike or Jira.
Overall, the best alternative to Monday is Trello because it provides the simplicity that's missing in the other platforms. You'll find that creating tasks and handing them out to team members is intuitive. Also, every project member can see what changes have been made using the recent activity tab. It's comparable to Monday because you can add information and files to each task. Additionally, the lack of clutter is why going with Trello might be the right choice.
Give each of the platforms in this article a try to see what works best for your project. They all bring something unique to the table that's worth checking out.