5 Tools For Improving Productivity and Efficiency Of Your Remote Team of Freelancers
There never seems to be enough hours in the day, especially in today's world where many employees have to work from home due to the COVID-19 pandemic. As a CEO or founder, you are having to lead your team during uncertain times while also hunting for ways you can help improve productivity. Many others in your position are likely doing the same.
Consequently, we have seen a jump in the usage of tools that can positively impact productivity. Nevertheless, while technology shouldn't be the only answer, combining the right tools with an exceptional strategy can help employees excel at what they do best. 
Technology will continue to have a critical effect on productivity. A study by Accenture found that AI technologies and expert systems could increase labor productivity by 40 percent in 2035. In short, technology will have a hand in improving productivity long-term. 
In this article, we will talk about the five must-have tools if you manage a remote team of freelancers/contractors all over the world. But first, why are these tools so necessary for today's remote work teams? 
Why Are Productivity Tools Necessary For Your Remote Teams? 
Remember those watercooler talks and impromptu brainstorm sessions during lunch? Well, the COVID-19 pandemic—as well as more favorable attitudes toward remote work—has decreased these interactions. 
Ultimately, the right remote work productivity tools can mimic in-person processes and streamline workflows. 
They can help your team:

Efficiently communicate with team members
Store and organize documentation 
Save time by automating routine tasks 
Delegate and monitor project tasks
Track their time
Collaborate with colleagues regardless of their location
Remote work productivity tools allow you to avoid losing that edge that you and your employees had in the office. They make it possible for you and your team to do the work you are best at without sacrificing quality or productivity. 
Overall, even in the office, most employees are having a challenging time staying productive. According to Atlassian, only 60 percent of work time—and in some cases, even less—is spent being productive. Again, technology is not the only answer, but it can be a significant part of the remedy to fix your team's productivity issues. 
What Tools Should Be in Your Remote Team Productivity Toolbox?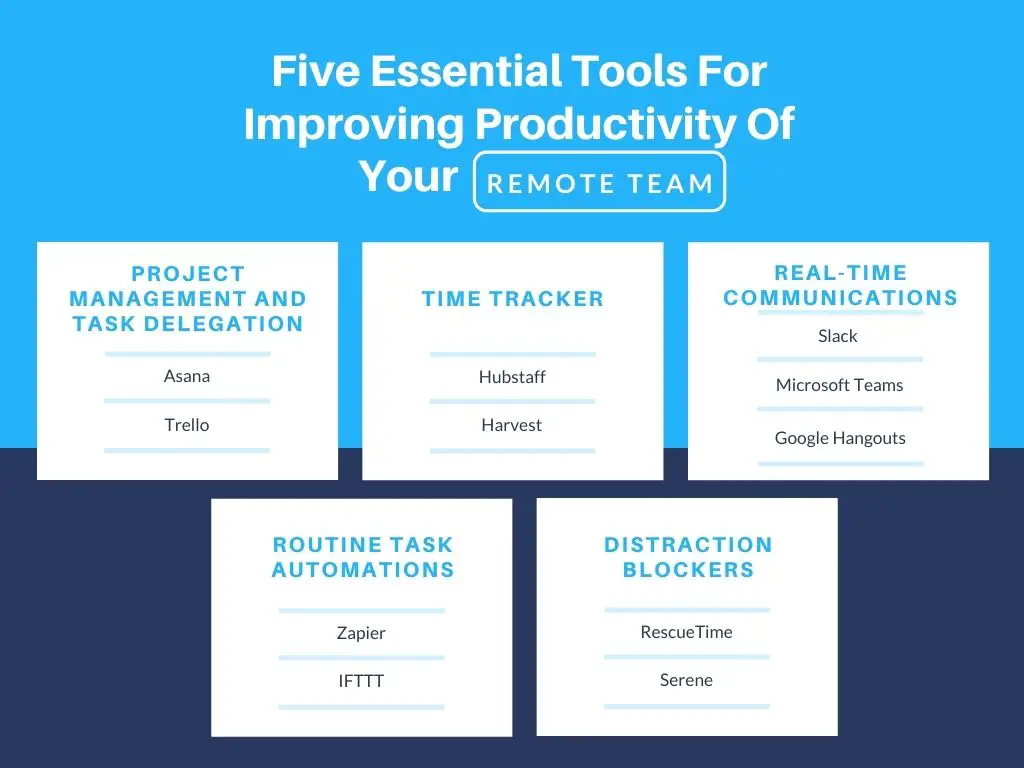 Before you can use technology to improve productivity, it's critical to have the right mix of tools to put your offsite team members on the right path. 
The tools below can help you manage crucial responsibilities like task delegation, tracking time, and preventing distractions. 
When coupled with strategies that make sense, these technology solutions can be a critical part of your productivity improvement plan. 
Project Management and Task Delegation 
It's easy to miss that critical email. Task delegation tools fix this problem. They give your employees a location to receive relevant project information in one place. Investing in a project management tool provides a great way to use technology to improve productivity. Two of the most popular apps in this space are Asana and Trello. 
They both offer freemium plans for teams looking to jump into remote work productivity tools in this category. They also enable you to delegate tasks, attach relevant documents to project delegations, integrate cloud storage tools like Google Drive, and monitor productivity and workflows. While both share some features, there are a couple of crucial differences between these two. 
One way that Asana stands apart from Trello—and other project management and task delegation offerings are through the variety of task and project views that it offers. Your employees likely digest and understand project information in different ways, and Asana makes allowances for this.
 You can create tasks and view them as lists, project workflows, or in a calendar view. Asana allows you to take more control in how you order information and present it to your teams. 
Alternatively, Trello includes one view for users. It uses a Kanban approach to project management and workflow monitoring. Unlike Asana, Trello has a much simpler and straightforward user-interface. Boards will represent projects, and within the board, you can create lists. Once a task is completed, it can be transferred to a card to reveal its progress throughout the project. Trello makes it much easier to organize tasks visually. 
Both Asana and Trello enable you to take more control over your project management workflows. However, Asana is an excellent choice if you need to map out more complex projects that allow you to view progress in various views. On the other hand, Trello is better for simpler and smaller-scale projects that are easier to monitor. 
Time Tracker
How can you track efficiency? Well, knowing how effective your workers are is one of the ways you can help improve productivity. Time trackers enable you—and your employees— to stay on top of how much work you all are doing while also streamlining HR processes. 
You cannot fix any productivity issues if you have no idea what your teams are working on. A time tracker app can allow you to see if your remote workers are being overburdened or need assistance in better managing their time. 
Two of the most widely-used tools on the market today are Hubstaff and Harvest. Both enable you to gain more insight into how remote teams are functioning throughout the workweek. Standard features both offer are simple time tracking, access to online timesheets, and visual reports. Nevertheless, these two helpful tools also have some notable differences: 
Hubstaff does allow for basic time tracking, yet, it acts more like an HR and People Ops tool than Harvest. This tool will enable you to take screenshots of your team to see how they work in real-time. It also permits you to use the time tracked to facilitate automatic payroll. Lastly, Hubstaff helps you see when your team is working and off due to the team scheduling tool. If you need a time tracker that offers payroll and HR functionality, Hubstaff is worth the look. 
Harvest is excellent for remote teams that are working with contingent workers in addition to part-time or full-time staff. This group includes freelancers and contract workers. Again, Harvest has standard time tracking capabilities, but it also builds in project management features.
 You can produce reports that enable you to see how much time members spent on a particular project so that you can better forecast time needs and budgets in the future. It also allows you to invoice individuals working with your team—again, a great feature if you are working with vendors or gig workers. 
Both tools are exceptional for improving productivity. They permit you to take the pulse of your teams and see how they work. This information lets you know who is being productive, see how long tasks are actually taking, and forecasts project timelines in the future. 
Real-Time Communications
Remote work comes with many perks, but it also has its share of cons. One of the most notable is that team members no longer have access to the impromptu meeting opportunities they once had in the office. That watercooler catch-up, lunchroom brainstorm session, and in-person socialization is no longer an option. 
As a result, they need a tool to mimic this. This reason is why real-time communication tools are an essential component in your remote work productivity tools suite. Your team members need to have the option to communicate with one another fluidly and without interruption, regardless of their time zone. 
Three popular tools in this category are Slack, Microsoft Teams, and Google Chat. Again, they have many similarities. However, they also have some slight differences that might make one a better choice over the other. 
Slack is the most well-known workplace chat tool. It was one of the first products to break the door open regarding communications for remote teams. Slack was one of the first to offer many chat and workplace communication features that have become commonplace in the other two options. 
Their channel creation feature makes it easy to involve relevant team members in conversations, while the Slackbot is an essential tool for automating workflow processes. Its user-friendliness is also unparalleled. If you want a workplace communication tool that offers useful integrations and a combination of workflow planning with exceptional chat features, Slack is a great choice.  
Microsoft Teams has many of the bells and whistles that Slack is known for. It offers channel creation, screen sharing, file sharing, guest access, and unlimited messages, much like its counterparts. However, where Microsoft Teams stands out is through its integration with Office 365. Many companies—even those offsite—are using the Microsoft Office Suite.
After creating a Team, a SharePoint directory is generated, making it easy to search for and access Microsoft documents related to specific projects. Additionally, Microsoft offers video communications through Skype that rival or even exceed Slack's video integrations. If you are already using Office 365, Microsoft Teams may be the best option. 
Much like with Microsoft Teams, Google Hangouts gives Slack a run for its money through its integration with Google tools. Accessing a Google spreadsheet, sharing documents, or turning a text-based chat into a phone call is as easy as selecting an icon on the menu screen. 
The benefit here is for those who are already using Google Workflow. If your documents and work mostly occur using Microsoft, it may make sense to run with Slack or Microsoft Teams. 
All three of these real-time communication options are excellent choices. However, to get the best out of your options, the key is to select the one that can seamlessly connect your other critical workflow processes like document sharing, video communications, and real-time collaboration. Understanding this will enable you to benefit from how these technologies can improve productivity. 
Routine Task Automations
These days and times, your employee's to-do lists are continually piling up. From attending meetings to managing responsibilities, they will need to maximize productivity in any way they can. Today, many remote work productivity tools offer workflow automation features to enable users to put routine tasks on autopilot.
 Automation allows workers to organize their time better to focus on things only they can do. Zapier and IFTTT are excellent pieces of technology that can help improve productivity. 
Zapier and IFTTT are workplace automation tools that can help your remote teams add efficiency to their workday. Both enable you to use an event on one application to trigger an action in another. Yet, while these tools are similar, they do offer some unique functions: 
Zapier
Zapier allows you to automate repetitive tasks through "Zaps." A Zap will enable you to select an app and choose an event that triggers it while connecting this occurrence to another tool to cause an action. 
For example, if someone signs up to your email list on MailChimp, it can trigger the creation of a record for this person on Hubspot CMS. Zapier has over 1,500 integrations, and users don't need to master code to take advantage of this tool. The number of integrations makes this ideal for companies and teams.
Alternatively, IFTTT does many of the same things Zapier does, but it is better suited for individuals than larger teams. IFTTT's applets (the equivalent of Zaps) do not offer as many complex integrations as Zapier. Nevertheless, IFTT is excellent for workers who want to automate personal or individual work tasks that can lead to their own increase in productivity. 
Zapier and IFTTT are handy tools. Zapier will likely be an excellent option for your entire company to automate more extensive processes (ex. email marketing, project updates, accounting, and finances). At the same time, IFTTT could be used among your staff individually so they can get a better handle on their work processes.
 These tools are definitely an example of how technology can help improve productivity. 
Distraction Blockers
One of the most challenging aspects of remote work is managing distractions. Your remote teams have a variety of other things going on around them. That sink of dishes, the looming plumbing appointment, and Facebook updates can disrupt productivity. 
Ultimately, a good distraction blocker and reminder app can help your remote teams stay on task and maximize their productivity. RescueTime and Serene are two exceptional options to block distractions. Both allow you to block distracting websites and apps, but the similarities end there. 
In addition to being a website blocker, ResueTime also lets you track your time and set goals regarding how much work you want to get done on your projects. This tool can also integrate with other popular apps to better facilitate distraction blocking and time tracking. Ultimately, RescueTime is a productivity app and distraction blocker wrapped into one. 
Serene also goes a step further than just being a distraction blocker. This macOS app comes with a phone silencer, app blocker, focus music, and a feature that will remind you about to-do list tasks throughout the day. Serene is your distraction control panel. You can set up tasks and trigger time limits for each one so you can stay focused for a specific time. 
Both Serene and RescueTime allows your remote workers to take more control over the day. Each one offers additional bells and whistles that go beyond just being a distraction blocker. 
Yes, Technology Can Improve Your Remote Team's Productivity 
Remote work is still a new work arrangement for many. So, understanding how to work effectively could be a learning curve for some of your team members. Nevertheless, to give your employees the best start possible, you have to create strategies that help them win with productivity. 
Additionally, you should select tools that permit you to implement these plans. The remote work productivity tools above can help you encourage remote teams to stay focused and productive immediately and long-term.