How To Use The Icon List Widget?
1. Search for the icon list widget; and Drag and Drop the Icon List.
2. To edit the icon list, the first option we see is the layout where you can choose whether you preferred to appear Inline or just the default.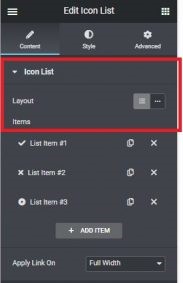 3. Now, to add a text for the first item, click the List item #1 and click it again for the rest of the item you want to include in the list.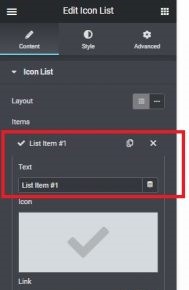 4. Lastly, you can change the icon of the List item. Just drag the cursor in check box and click icon library, it will immediately appear.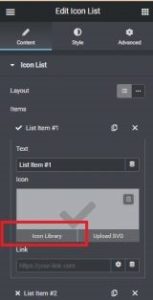 How To Make The Icon List Element Bigger?
You can set Hover Effects on Icon List Widget using Elementor. It provides the widget that helps you improve your page's design interaction. The Hover effects can be applied on the icon and it can be merge to create an color effect to the icon used.
Edit the Icon list, go to Style Tab and select the Icon to customize. You can change the color and set the Size of the icon using the slider or just enter a number in the box to modify the size of the icon to adjust the size of the icon based on what you want.
How To Align Icon List On Top Of It's Description?
How To Make An Icon List Hover Effect​?